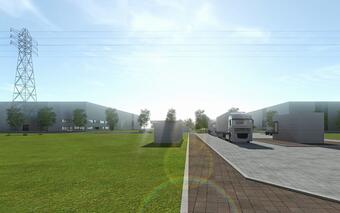 An area with more than 126,000 square meters of leasable areas suitable for logistics or light production will be created on a 37-hectare plot of land. In the future, several hundred jobs will be created in the locality. The construction of utilities and infrastructure is already underway, as is the revitalization of the existing pond, which will become the focal point of the new park and provide local workers with enough space to spend free time and relax. Completion of the first hall is expected in Q3 2021.
"We are pleased to announce the start of construction of a new technology park in České Budějovice, the seat of the University of South Bohemia and the economic, administrative and cultural center of the entire region with a highly qualified workforce. We believe that our new park will offer an excellent location for e-commerce and last mile activities thanks to its great accessibility to the city center. Due to the proximity of the German and Austrian borders, which are only 80 and 40 kilometers away, the area is suitable for logistics as well as light industry," comments Matthias Sander, VGP's Chief Operating Officer for Central and Eastern Europe, adding:
"The new park offers premises for rent from 1,500 m2, but it is also an opportunity to build a large logistics center, tailored to the needs of a particular applicant. The advantage is that the area will also include a parking lot for trucks, including facilities for drivers, which we will create in agreement with the city."
VGP Park České Budějovice
A total of 7 buildings of a high standard with an emphasis on energy efficiency and sustainability will be created in the area, which aims at a green BREEAM certificate in the Very Good level. Among other things, the park will be connected to the hot water pipeline of the České Budějovice Heating Plant, which will significantly contribute to reducing emissions. VGP also counts on the reconstruction of the local cycle path.
Source: // Retrend