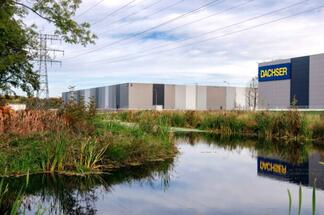 Last year, Dachser Czech Republic moved its České Budějovice branch to a newly emerging industrial zone – VGP Park České Budějovice. It leased logistics and administrative premises of 7,000 square meters from the development company VGP. After only six months, in the fall of 2022, she extended the lease by almost another 2,500 square meters. Thanks to new acquisitions and growing demand for contract logistics from existing customers, Dachser agreed with VGP earlier this year to build another custom-made warehouse hall.
The new warehouse provides 14,000 square meters of storage space for 25,000 pallets and has 10 loading and 2 access ramps. It is equipped with high shelves with special shelf sprinkler technology to ensure professional storage of products with, for example, lithium-ion batteries. The building uses technologies to save resources, which include, for example, heat recovery, LED lighting, equipment for saving drinking water and more. The warehouse also provides generous packing and picking areas and comfortable facilities for employees, including indoor and outdoor relaxation areas. Both Dachser buildings in VGP Park in České Budějovice are striving for BREEAM Excellent certification.
"The branch in České Budějovice employs 80 people in various logistics professions. It is connected to our dense collection service network, within which 102 direct lines leave from the Czech Republic alone every day to 45 destinations in Europe," says Jan Pihar, CEO of Dachser Czech Republic, adding, "our team, which manages to satisfy even demanding customer requirements for rapid expansion, is thus an integral part of the 'Dachser family' and shares the same values and goals with our other colleagues around the world – to provide intelligent logistics services and help our customers improve their logistics balance."
As the company states, in České Budějovice it is managing to expand its portfolio of contract logistics customers, including collective transport and storage. "We are particularly pleased that we can continue to grow together with our customers. Such development as the branch in České Budějovice has undergone in the last two years is an opportunity for us to show that we are flexible enough and can provide high-quality services," explains Peter Papan, branch manager of Dachser České Budějovice.
The Dachser České Budějovice branch now has a total of 24,000 square meters of warehouse and administrative space. Logistics operations in both warehouses are connected to the company's own warehouse and transport IT systems. Due to the support of sustainable development, including alternative drives for trucks and personal company vehicles, the company invested in a charging station for electric cars near its operations. With a capacity of 50 kW, it is sufficient for current needs, with regard to the further development of emission-free concepts, Dachser plans to install a second charging station with a capacity of 184 kW.
VGP Park České Budějovice is located on the outskirts of the city in the Světlík commercial zone. It has good transport connections to the city center and direct access to the D3 highway, which connects Prague and Linz, Austria. A complex with seven halls and more than 126,000 square meters of rentable space will gradually grow on the 37-hectare plot. Part of the construction of the park is the reconstruction of the bike path and the revitalization of the adjacent pond to support the local biodiversity and retain water in the landscape.