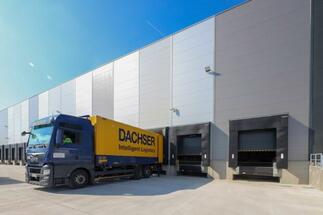 "In the long term, we provide both stability and great flexibility to our tenants. We are able to respond operatively to their needs and offer them additional spaces that support their growth and further expansion. Cooperation with Dachser is a prime example. We are pleased that we are a reliable partner for them that they could turn to with their expansion request and that we were able to provide them with an adequate solution," comments David Plzák, VGP country manager for the Czech Republic, adding: "Just like with our of the other parks in České Budějovice, we strive for the most environmentally friendly construction. For all newly constructed buildings, i.e. also in the case of this hall in VGP Park České Budějovice, we strive to obtain the BREEAM Excellent green certification. We see the cultivation and planting of greenery around the campus as a matter of course."
Logistics service provider Dachser Czech Republic moved its České Budějovice branch to VGP Park in České Budějovice last year. The favorable location of the park and its connection to the highway network are a suitable prerequisite for the development of the collection service in which Dachser specializes. The company will use the new premises in Hall D for its ever-growing area of business – contract logistics. By expanding its capacities in southern Bohemia, the company will create 40 new jobs.
"We are pleased that these specific logistics services are receiving a good response from our customers in the south of Bohemia and that this allows us to grow together with them," says Jan Pihar, CEO of Dachser Czech Republic, adding: "To open two warehouses in such a short time buildings are truly unique in the region. We therefore appreciate the cooperation with VGP, which meets us in the speed of construction and in our requirements for the standard of buildings and builds an industrial park with regard to the comfort of its users and the requirements of the logistics of the future."
VGP Park České Budějovice is being built on the outskirts of the city in the Světlík commercial zone. Thanks to the transport connection to the city center and direct access to the D3 highway, which connects Prague and the Austrian city of Linz, the location is suitable for logistics and light manufacturing. The entire campus with seven halls and more than 126,000 square meters of rentable space will gradually grow on a 37-hectare plot. As part of cooperation with the city, a public parking lot will be built for 30 trucks, which currently do not have sufficient parking capacity. Part of the construction of the park is the reconstruction of the bike path and the revitalization of the adjacent pond to support the local biodiversity and retain water in the landscape.