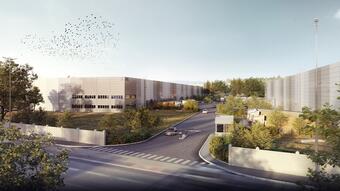 "Bosal is, like VGP, a family-owned business. A business that has operated for a century and serves as a Tier 1 supplier to the major automakers globally. We consider Ústí nad Labem, with its industrial tradition, to be an ideal place for the expansion of their business. Moreover, the project is located just 2 kilometres from the D8 motorway connecting Prague and Dresden. By expanding to this location, the company will create dozens of jobs and thus support employment in the region," comments David Plzák, VGP Country Manager for the Czech Republic.
Bosal was founded in 1923 in the Netherlands. Since then, it has grown significantly to become one of the leading innovators in the automotive and energy industries. It currently has 17 industrial sites, 12 distribution centres, 7 research and development centres, and 2,500 employees worldwide. The company's main products include emission control systems for passenger and commercial vehicles, roof racks, towing systems, and other automotive components.
Within VGP Park Ústí nad Labem City, a total of 3 halls with BREEAM Very Good green certification will be built on an overall area of almost 11 hectares with more than 52,000 m2 of lettable space. Preparatory work is currently underway and at the moment 12,000 m2 of space remains available to be let in Hall A. The park is just a 3-minute drive from the city centre and a 5-minute walk from the train station. There also are several public transport stops (buses and trolleybuses) in close proximity.
"With the signing of the lease agreement with Bosal, we still can offer 40,000 m2 of modern semi-industrial and logistics space at this location that is under construction or ready to begin building and with the possibility of installing photovoltaic panels on the roofs of the halls," adds Ondřej Titz, Commercial Director for the Czech Republic.