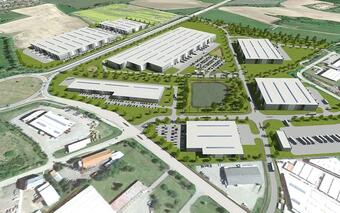 VGP performed a comprehensive carbon footprint analysis to better assess the climate impact of its operations. Based on this analysis, the company has set several goals that will enable it to achieve carbon neutrality by 2025. In addition, the company is committed to reducing Framework 1 and 2 greenhouse gas emissions by 50% by 2030 compared to 2018. For details on the company's approach to emissions and the objectives of Frameworks 1 – ⁠3, see the Corporate Responsibility Report published today.

VGP Park Chomutov
As a family business based on the border of construction, logistics, industry, and transport, VGP wants to make a significant contribution to a more sustainable economy and more careful use of natural resources. The second Corporate Responsibility Report comprehensively presents how the sustainability strategy has evolved over the last few years and what its focus will be in the future in order to achieve carbon neutrality.
VGP CEO Jan Van Geet said: "Our commitment to carbon neutrality by 2025 is a very personal concern for me. I want to make the necessary changes that are in our hands today to preserve existing resources for the best of future generations. I am also convinced that our steps towards a more sustainable future will have a positive impact and strengthen our relations with all stakeholders - tenants, municipalities, investors, business partners, and employees."

VGP Areál in Hrádek nad Nisou
The 2020 Corporate Responsibility Report highlights the company's progress and commitment to strengthening sustainability efforts in all day-to-day business, even in the midst of the COVID-19 pandemic. Protecting the health and well-being of the company's employees was the highest priority in 2020, although the company also tried to ensure that the pandemic affected the course of park construction as little as possible.
Another important step towards carbon neutrality was the acceleration of the BREEAM (Building Research Establishment Environmental Assessment Method) certification effort, which is now 35% certified, as well as a significant increase in production capacity for green energy within VGP Renewable Energy to 42, 5 MWp with another 53.3 MWp planned. Founded in 2019, the VGP Foundation received a grant of € 3 million in 2020 and identified the first 16 projects it supported by more than € 1 million. At the same time, in 2021, VGP undertook to support the activities of the foundation with EUR 4 million.
Source: // Retrend