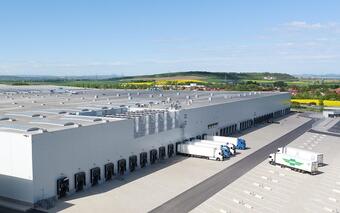 Investment
The pandemic had a significant impact on overall investment activity in Central and Eastern Europe in 2020, with total volumes ending 24% lower than in 2019. International investors had difficulty traveling and physically looking at and valuing real estate, but this did not stop the dominant interest. investors from the APAC region, already focusing on industrial and logistics assets. At the end of last year, 2020 proved to be a record year for industrial and logistics volumes, with around € 3.3 billion in transaction volumes and a 32% share of total annual volumes.
Kevin Turpin, Regional Director of Central and Eastern European Market Research, said: "Most investors considering an industrial and logistics investment product prefer to acquire portfolios, platforms or investment opportunities with the ability to flexibly change the number or size of transactions. The volume of investments of approx. EUR 3.3 billion in 2020 consisted of approximately 45 transactions, indicating an average transaction size of over EUR 70 million. Among these were some very significant portfolio transactions, the largest of which was the acquisition of Goodman's assets in Central and Eastern Europe by GLP for approx. EUR 1 billion."
MONT-KOVO, general supplier of industrial and warehouse halls - Warehouse hall PLASTOPLAN SK
Capital from the APAC region, specifically from Singapore, China and South Korea, secured a dominant 52% share of the volume in industry and logistics. This was followed by capital from the EMEA region with 16% and from the USA with 14%.
Andy Thompson, Director of Capital Markets for the Czech Republic and Slovakia, added: "The demand for logistics continues to exceed supply - not only in the countries of Central and Eastern Europe but also to a greater extent in the countries of the EMEA region. We are seeing a reduction in rates for several sales transactions across the EMEA countries as demand continues to raise prices. Logistics is now a darling among the sectors, as it enjoys the demand of both tenants and investors, which gives investors confidence and increases their interest in investing in this sector at a time when some of the other sectors are at higher risk."
Harry Bannatyne, Partner and Industrial Director, Colliers Czech Republic, explained: "We see a very strong market in the Czech Republic, with demand exceeding supply with very low vacancy and less than ten currently available buildings in the industrial and logistics sector over 10,000 square meters. There is a great shortage of land here and permitting procedures are still long, which also contributes to the current much higher soil values; having land with a permit is paramount for developers.
The Czech Republic has a perfect location in the heart of Europe and has a strong demand from German companies. All Class A developers in the Czech Republic are building sustainable industrial and logistics buildings, thanks to which they are actively contributing to the creation of green solutions in this commercial real estate sector. It is still not an easy market, as the requirements of tenants, both logistics and industrial, change with greater needs for automation and robotics, which requires not only higher performance but also non-standard building heights and generally creates a market for BTS (build to suit)."
GLP - GLP PARK OSTRAVA HRUŠOV
Vacancy rate
The availability of industrial and logistics facilities in the region of Central and Eastern Europe as a whole reaches on average approx. 5.9%. Some developers are willing to build speculatively, while others are under less pressure to do so, preferring build-to-suit (BTS). Accessibility is very limited in some countries, especially in the most sought-after locations. Potential occupiers who want to enter or expand the region should therefore ideally start the site search process early so as not to disrupt or delay their plans.
Inquiry
Looking at the gross demand for industrial and logistics space in 2020, we recorded very strong activity, recording around 9 million square meters in the region, which is an average annual growth of almost 25%. The Czech and Polish markets recorded a higher level of activity in their regional markets.
Sectors
In 2020, the largest activity was recorded by companies from the 3PL sector - ie third-party logistics - entrusting transport, warehousing, etc. to a third company (approximately 28%), followed by retail (17%) and e-commerce (12%). According to the available details, 3PL and the retail sector have quite similar shares of market activity compared to 2019. The total activity of e-commerce increased by 200% year on year. During the pandemic, we saw greater demand for short-term leases in order to cope with the situation with additional demand, but typical lease lengths throughout the region range between 3-5 years for logistics and more than 5 years for production.
CTPark Bor
Rents
Rents remained largely stable throughout the region, with some markets growing in the most sought-after locations. Nominal rents in the most desirable locations in the whole region range from only EUR 2.9 per m2 / month in Poland and from EUR 5.0 per m2 / month in Bulgaria. The level of achievable rent also depends on who the tenant is and under what conditions it is agreed in the lease agreement. Construction costs, which have risen in recent years, also play a role.
CTPark Prague North
Revenues
For major industrial and logistics revenues, we saw a stable trend in some markets, again partly due to a lack of evidence, while others saw compression. A further move towards declining yields can be expected, especially since the product type is in high demand and the bulk of the product remains firmly in the hands of long-term holders.
In 2021, several more portfolio transactions will be closed, so we can expect more industrial and logistics revenues to exceed revenues from the best shopping centers. When compared to other investment instruments, such as ten-year euro bonds and long-term interest rates in the euro area, real estate in the CEE region is a widespread and attractive investment product.
Source: // Retrened