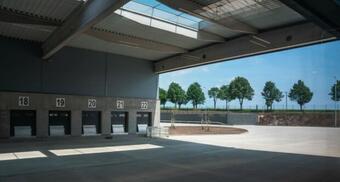 In the Czech Republic, Zásilkovna, which belongs to the Packeta group, has 17 depots with a total area of more than 78,000 square meters. "We are constantly trying to adapt our depot network to the needs of our customers. We are improving the operations within the depots and adjusting their layout and location to ensure top service and maximum speed for the passage of shipments. The opening of a new modern depot in Holubice was the next logical step in maintaining the quality of parcel delivery in the South Moravian region. We also took care to plan a functional and modern facility for our employees. Depo Holubice is our flagship in Moravia, up to 400 people will work here," says Simona Kijonková, CEO of the Packeta group and founder of Zásilkovna.
The developer of the new hall in Holubice is the company GLP. "For Zásilkovna, we built one of the most modern premises for providing sophisticated logistics and distribution. It provides an above-standard working environment thanks to outdoor relaxation zones and park improvements, including a community garden. The complex is also environmentally friendly: rainwater is used for commercial purposes, heat pumps reduce operating costs, and in the future we also expect to install photovoltaic panels," explains Jan Palek, director of GLP for the Czech Republic and Slovakia.
The premises of the building were customized for the Post Office to meet the high standards of storage and logistics. The depot has 44 delivery gates and 12 truck ramps. The depot solution has, for example, a glazed part of the roof, which allows daylight to pass through and thus reduces the energy demand of the building.
Up to 400 employees will work at the new depot during the season, sorting 90,000 shipments per day, up to 120,000 shipments during the season. In total, the depot can accommodate 300 cages for sorting parcels, up to 500 in the season. Thanks to technologies for scanning parcels at the entrance and monitoring the quality of parcel processing, the Post Office is able to control the quality of delivery.
The Packeta Group has a total of 48 depots in Europe with a total area of 122,000 square meters, of which two depots in the Czech Republic (Rudná and Štěrboholy) are robotized. Robotization of the depot in Holubice is also planned for 2025.