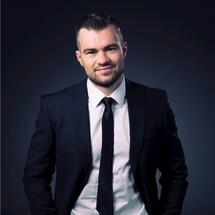 You personally negotiate with representatives of companies looking for halls in the Czech Republic. What is the current situation in terms of demand for industrial real estate during the coronavirus situation?
Industrial and logistical development is probably one of the few sectors that has been positively affected by the coronavirus crisis. We are happy to say that we are growing together with our clients, and therefore, as the e-commerce sector grows, so is the demand for warehouse space. This is not a new trend, consumption has been shifting online for several years, but economic constraints have sharply accelerated it. And it has also accelerated deglobalization, when companies return to the original model and want to implement production as close as possible to consumption. Multinational manufacturers also observe that it is not sustainable to be dependent only on China and move part of production and storage back to Europe. And again, they need industrial halls.
At present, the e-commerce segment is thriving. Has this also manifested itself in the area of ​​demand? What types of warehouses and in which localities are you interested?
As a standard, CTP grows by about 70% for current customers who are either looking for larger premises in current locations or are expanding their operations to new locations not only in the Czech Republic, but also in other countries where we operate. Recently, we concluded a new contract with the global logistics giant Hellmann, which leased another 12,000 m2 in addition to 20,000 m2 in CTPark Bor. In CTPark Žatec, we are again building 12,000 m2 of storage space for Nexen Tire. It has its first European production site in Žatec, in which it produces tires for Škoda, Renault and Porsche, for example. We are currently perceiving an increased interest in warehouse space. However, the demand is diverse and also comes from heavy industry, food and healthcare.
The driving force of the Czech economy is the automotive sector. How is automotive currently doing in terms of demand for new halls? Surely you have a comparison with the period before the coronovirus crisis. Has anything changed in this direction?
Activity from the automotive industry is more cautious in view of the situation, however, the industry on which the Czech economy stands has not stopped. We are in constant demand from car manufacturers or suppliers. For example, Hyundai Steel has newly leased a hall with 25,000 m2 from us in Ostrava, where it will produce metal body parts for the Hyundai factory in Nošovice. Ostrava, with its industrial potential, is very interesting for the mobility segment; for example, Škoda Vagonka is moving to CTPark Ostrava and our long-term partner, Brembo, is expanding its field of activity.
When interested parties decide where to rent industrial premises in Europe, what makes the Czech Republic attractive to them and, conversely, when the Czech Republic usually loses the "fight" for the location of the hall?
In the Czech Republic, labor is educated, yet, in comparison with Western Europe, cheap . This adds interest to multinational manufacturers who need skilled people. Such as car manufacturers. The Czech Republic's stable membership in the EU is also an advantage over some countries in Eastern Europe and the Balkans. In addition, the Czech Republic is a very strategic location, from where it is possible to supply the whole of Europe very efficiently. On the contrary, for example, Slovakia has an advantage over the Czech Republic in multinational companies in the use of the euro.
If you were to evaluate the current part of this year from your point of view, how would you answer?
In the spring, of course, we were worried, like everyone else. Nobody knew how the market would react to the new situation. Above all, the automotive seemed to be very affected, which would be reflected in our business. However, the initial uncertainty was quickly offset by growth in demand from logistics chains, and now we are seeing a return of interest from the automotive industry. Unlike other commercial developments, logistics and industrial properties have thus proven to be highly resilient. This is also confirmed by the interest we saw in October in issuing our first green bonds worth 650 million euros. The demand for them even exceeded the supply multipletimes and reached 2 billion euros. Compared to other segments, we are doing really well.
What do you expect 2021 to be in terms of industrial development?
Demand from logistics will continue to grow next year. Interest in buying goods on e-shops is growing in the Czech Republic by tens of percent and it can be assumed that this will remain the case in the future. Many people have become accustomed to shopping online and will continue to do so when stores open. Also, many traders who have so far relied on stone shops have moved at least part of the offer to the virtual world and started working on their e-shops. In this respect, the crisis has certainly brought a step change in the behavior of both buyers and sellers. The Czechia was forcibly digitized, and what would otherwise have taken years, we managed under the pressure of circumstances in months or even weeks. We are glad that we were able to contribute to the fact that the supply did not stop in a hectic time. And we will continue to do so next year. I expect demand from industrial producers, which has cooled slightly this year, to return next year. We will definitely be ready for it.
Source:// Systémy Logistiky