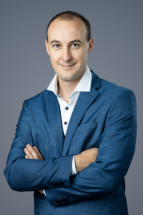 What projects is Panattoni currently working on in the Czech Republic?
Panattoni is working on a number of projects at various stages of implementation. Many of them are in the preparation and permitting phase. Among those currently under construction, I would mention the construction of a robotic distribution center for Amazon in Kojetín, the extension and automation of the building for Tchibo in Cheb, the second phase of construction on the brownfield after Cheb Engineering Works for Autodoc, or the construction of a new production plant for Jungheinrich in Jirkov. Overall, last year was a record year for us in terms of newly signed contracts.
How would you evaluate the development of the logistics and industrial space market in 2021, especially against the background of the Covid-19 pandemic?
In the first phase of the pandemic, uncertainty prevailed in the market and many ongoing projects stopped. After some time, when the management of companies realized the need to hold stocks and the impact of the e-commerce boom, demand rose sharply. Currently, due to the pandemic, we are facing problems with the availability and price of building materials.
The change in the client's behavior has led and is leading to increased tenant demand for warehouse space. What changes in demand, supply and changes in the client's behavior do you perceive in comparison with the pre-pandemic situation and the situation today?
Recently, the higher useful height of buildings has become an increasingly frequent requirement of clients. Thanks to it, building users can achieve greater efficiency in their operation. At the same time, the buildings are smaller in plan and do not require as much land. An example is the new building for Amazon in Kojetín, which is twice the height but almost half the floor plan of the one Panattoni built for Amazon in Dobrovíz. Thanks to these parameters, the whole building will fit on the brownfield after the former settling tanks of the Kojetín Sugar Factory and will take up almost no arable land.
What does Panattoni's real estate portfolio currently look like (m2, number of logistics parks, cities in which it is located)?
We are currently working on permits for more than 2 million m2 of new buildings in approximately 20 locations throughout the Czech Republic. Most of them are on brownfields.
What are Panattoni's logistics and industrial development plans for 2022?
We would like to continue to be wherever our clients need us, and to supply them with buildings that will serve them well today, but also in 20 years. We place great emphasis on modern technologies and the sustainability of our buildings. As the first industrial developer, we have introduced BREEAM New Construction certification at the Excellent level to our standard. In the coming years, we plan to further increase the sustainability of our buildings and move towards carbon neutrality. This year will also be the year of the 15th anniversary of operations on the Czech market.