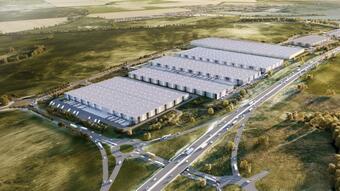 In the first phase, Geis will use 8,000 m2 of indoor area, with corresponding outdoor areas and parking areas. The director of the Triblavina Geis SK branch, Tomáš Čanaky, told TREND that the developer VGP built the complex according to their requirements, they have it for rent. Construction began in April this year.
Geis Group Managing Director for the Czech Republic, Slovakia and Poland Daniel Knaisl said that the company is growing and therefore needs larger and more suitable premises for a branch in the Bratislava region.
"Our request was a modern cross-dock terminal in combination with a warehouse near Bratislava and at the same time by the D1 motorway," specified D. Knaisl. Due to its strategic location, VGP Park Bratislava represents an important logistics project that will support the segment of domestic and foreign trade and logistics.