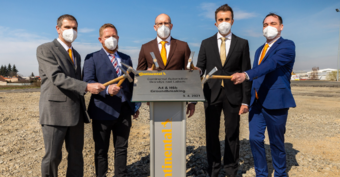 The projects follow on from the extensive expansion of facilities and production capacity from last year, when Continental increased its premises by a total of 9,400 m2. This is also related to the increase in the number of employees, which in 2020 increased by about seventy. The company plans to accept dozens more this year, looking mainly for those with electrical engineering education and other technical positions. It now employs about two and a half thousand people.
The new production hall is a key element of the strategy
"Once completed, the multifunctional office building will significantly support our long-term vision of increasing the satisfaction of our customers, business partners and employees. The new production hall then represents a key element of our plant's strategy leading to the achievement of an ideal production and logistics layout for the production of complex and highly sophisticated display applications," says plant director Tomáš Vondrák.
Both new buildings began to be built in the existing main complex. The hall for the production of displays (700 m2) will complete the hall completed last year. Together, this will create 1,840 m2 of clean production space needed for the production of displays. Continental in Brandýs uses special optical bonding and hybrid bonding technologies that improve the readability of displays in direct sunlight. Displays with a diagonal of up to 12 inches will be produced in the new premises, which is why the requirements for production areas with very high purity are expanding.
A new office building will be built on the piles above the current car park in order to preserve as many parking spaces as possible. The ground floor with an area of ​​940 m2 and the first floor with 2,400 m2 will fulfill a number of functions. In addition to the offices, the employees will be served by, for example, a fitness center, a children's corner, a doctor's office, a training center or a large canteen with its own kitchen. The building will also become a new entrance zone to the entire complex.
"We are very pleased to be able to not only continue our years of cooperation with Continental, but even expand it. We value this trust very much and we believe that together we will bring the new buildings to perfection, the employees will be satisfied in them and the company will prosper," says Róbert Dikan, asset manager at CPI Property Group, which owns and manages the complex.
2020 in the sign of enlargement
Last year was already marked by great expansion for Continental in Brandýs. The Brandýs III building in the village of Zápy was put into operation, which consists of a production hall with an area of ​​1,900 m2, a warehouse with an area of ​​2,500 m2 and office space with social facilities of 370 m.
The plastics press also expanded, when the existing production hall with injection molding machines was increased by 440 m2. Top modern injection molding machines enable the production of plastic components for onboard instruments with cover glass microstructure technology.
Last but not least, the construction of the H6 building was completed last year with a production hall (1,140 m2) and a preparation room (220 m2) for hybrid bonding technology. There are also state-of-the-art laboratories for testing components. In the future, the clean production premises will be expanded by a hall, the construction of which has just begun.
Continental Automotive Czech Republic in Brandýs nad Labem manufactures car radios, multimedia systems and their front displays, on-board devices, air conditioning control panels, telematics, eCall systems and also fuel system control units. The company's customers include the world's largest carmakers, and you can find its products in cars around the world.
Source:// Systémy logistiky