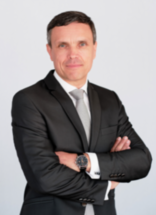 What has been the impact of the coronavirus crisis on your company?
As a logistics provider, we provide services to our clients, especially in the field of FMCG and e-commerce. Logically, the effect of measures associated with restricting the movement of people and closing services, shops has an impact on sales of goods that we store for clients, and this has a direct impact on the services we provide. However, the product portfolio is different, some clients sell in brick-and-mortar stores and through e-commerce.
For some of our customers, the impact was minimal, for some the overall impact was not significant due to the fact that sales volumes lost due to closed stores were offset by increased sales through the e-commerce channel. For some, coronavirus-related measures had fatal, albeit limited, effects. The impact on our overall company turnover was not significant, however, profitability certainly suffered.
You have certainly taken a number of measures…
Yes. Thanks to government measures, but especially thanks to our own measures, which we were in many cases ahead of the government, and which were necessarily more specific, the operation of society was limited. In particular, measures to prevent workers in different shifts from meeting in order to prevent the possible spread of the disease between shifts have led to a relatively significant reduction in overall productivity. On the contrary, we have become accustomed to using tools for online meetings, and this has led to greater efficiency and flexibility in our day-to-day communication, both internally and with our clients.
One of the manifestations of the coronavirus crisis is the development of e-commerce. So has this been reflected in your business?
Probably the biggest impact, and paradoxically positive, we perceive in the development of e-commerce in our clients. The situation forced the company to change its habits, and especially for the older generation, there was far more shopping via the Internet and the use of home supplies. I believe that these habits will not just disappear, those who do not offer their goods on the Internet, will not be able to expect significant business growth. For us as a provider, this means thinking critically about our capacity limits, and now I do not mean only the physical preparation of goods, but also the capacity of our servers, for which managing a large number of orders was a "challenge".
From your point of view, how do you evaluate the year 2020?
For me personally, this year is very important. I joined FM Česká in February. Before I could really look around, there was a covid-19 and it was necessary to solve very quickly so that our company would be able, without any restrictions, to provide services to our customers so that they would be able to supply the market with much-needed goods, such as Savem.
Some of the plans I had in the beginning, I had to postpone, as well as getting to know the culture, FM processes and my integration within the company was far more challenging than one might expect.
On the other hand, I was able to quickly learn how my subordinates can handle non-standard situations, how quickly they can respond to the needs of our clients, and how they can manage operations under very limited conditions. We also had to deal with several changes in management. As soon as we took a breath, the unexpectedly fast distribution season came on the increasingly popular Black Friday, Christmas, and then the second wave of the pandemic, which this time did not escape without a few infections among our co-workers.
We went through all the relocation of one important client within our warehouses near Prague. On the positive side, with this necessary step, we have freed up space for a client that is growing dynamically, precisely because it trades in the field of e-commerce.
Can you tell from practice which market segments have been most affected by the current situation? And how did this affect the demand for your services?
Undoubtedly, one of the most affected segments is tourism, the significant weakening of almost stopping of which, of course, also has implications for the economy in several ways. A significant one is the area of ​​real estate, where there is a significant drop in the prices of commercial real estate, such as hotels and guesthouses, but we are also seeing a reduction in housing rents due to increased supply due to the release of many apartments originally used for short-term rent. On the contrary, we recorded increased demand in industrial real estate and logistics warehouses, and our company also struggled with a lack of storage capacity, especially during the pre-Christmas season, which forced us to use external warehouses. Finding a suitable size, the location was not easy.
Many of our clients have struggled with higher inventory levels due to reduced sales. The season last year also started unusually earlier, which we attribute to the influence of great uncertainty of traders and fears of the coming second wave of covid. As already mentioned, the current situation had a very positive effect on the development of the e-commerce market, the development of which accelerated extremely, and this was reflected in the demand for our services. FM Logistic provides services to several important clients, for whom we ensure the picking and delivery of goods to their end internet customers, largely abroad, especially to Germany.
What did this mean for you?
We had to ensure an extremely fast increase in capacity, optimization of some processes, readjustment of parameters for the supply of consumables and packaging material. Unfortunately, in some cases, we encountered a lack of storage capacity again due to the fact that some providers of parcel transport, which our clients use, were not able to supply the necessary capacity and thus significantly reduced our activities… We were simply faster to prepare goods than carriers.
The demand for e-commerce services is increasing, we are working on projects for some of our existing clients who are interested in expanding their services in this segment. We definitely see a great future in this segment and we are glad that we have experience in it and plans to realize that future. Other areas, such as the labor market and foreign workers, construction, the automotive industry, and its slowdown, new technologies, and the use of online communication, could be talked about for a long time.
All your services, both nationally and internationally, are coordinated with your own Control Tower, even if the customer uses more than one supplier in their supply chain. Can you describe the principle of operation and the benefits of this tool for everyday logistics practice?
"Control Tower" in this form is something that I encounter for the first time in my practice, and as I knew it, I must say that it is a very good and necessary tool. Especially in such cases where we supply services for the client covering all or most of the supply chain, but we also have cases where the activity extends to other providers.
When we imagine a client to whom we provide services of international full truck transport, local and international pallet distribution, parcel transport, warehousing, co-packing, co-manufacturing, customs services, and more…. Each of these activities is managed to a certain extent autonomously and the task of the person or team providing the "Control Tower" activities is to operationally cover the information flows between all parties involved and to build long-term relationships. He is the coordinator between the needs of the customer on the one hand and the service parties on the other, as I have already mentioned warehouses, transport companies, consignees, sellers, customs clearance, etc.
What does this mean in practice?
That the "control tower" takes care, among other things, of maintaining a database of information for day-to-day operations and good decision-making, KPI reporting, and participation in an action plan to improve performance and streamline processes, preparing to report precisely tailored to client requirements. It also seeks optimization in the range of traffic flows in cooperation with experts from FM, has knowledge of all portals and programs that need to be monitored. Its activities begin before the start of activities for the client, when it actively participates in the implementation and setup of EDI messages, database creation, rules for KPIs, etc.
The advantage is unambiguous, especially on the part of the client, who has one telephone number and e-mail address to which he can turn with questions about the entire process of flowing his goods and information.
You have experience with providing services from transport to, for example, packaging. What is your recipe for efficient logistics? What do you think is the basis? And what do you see as the latest innovations that increase logistics efficiency?
I see efficient logistics especially in finding synergies. We are doing well. The basis is a wide portfolio of clients in our "multicustomer" warehouses in Tuchoměřice and Jirny. Clients are of different sizes, providing mainly goods from the FMCG area, in various storage regimes - both temperature and, for example, under tax or customs control, and have different seasonality. They use e-commerce and various modes of transport. Efficiency lies mainly in the possibility of flexible allocation of both human and technical resources, but especially the allocation of know-how.
The basis for efficient logistics is healthy data from the field of human resources and their deployment, material flows, preferably in real-time. We use this information, analyze it and, with the involvement of employees at all levels in the "continuous improvement" program, then streamline processes and find new, more effective solutions. I see the latest innovations to increase efficiency in automation and robotics, where we can completely eliminate or reduce human labor and thus solve the personnel issue, especially in seasonal fluctuations. But I don't just mean physical work, we also work on robotizing administrative work.
I see the importance of deploying automation especially for customers who have online stores when it is necessary to process a large number of orders with a relatively small number of pieces in one order. Without automation of assembly, packaging, and handling lines, this segment of logistics simply cannot be done.
When we mentioned packaging, today the trend of sustainability is obvious. How do you perceive this topic from your point of view?
Sustainable packaging is becoming a much higher priority for companies and their customers than ever before. We also perceive this in our clients and try to go against them and fully support them in this area, because we no longer see the sustainability of packaging as just one of the options, but an inevitability. In practice, this means that, for example, we use paper instead of plastic air cushions to fill cartons with goods. If the process allows, we use returnable packaging to transport the goods to the stores.
We try to reduce the amount of generated waste as much as possible. For example, we are currently working to reduce or eliminate the use of packaging film for goods on pallets that are further processed in the warehouse in some way. We intend to use a solution that will allow repeatable use to fix the goods. We work to be able to offer clients environmentally-friendly solutions. As another example confirming the above in the field of transport, I would like to mention here our testing of a van using CNG propulsion.
And what development do you expect to develop in 2021 within your market in which you operate? What do you think we can expect?
It is very difficult to predict how the pandemic situation will develop. I may be optimistic about this, thinking that we should get back to normal in the early summer. Of course, the impact of all measures and their consequences will be even longer and it will be different from the perspective of European countries, but also worldwide. This will affect our clients and therefore the services we provide to them and thus our company. I assume that the development of e-commerce will continue, although not as fast as it was last year.
We perceive this in our clients who trade via the Internet, as well as in those who do not yet have activity in this sector but perceive the importance and opportunity. For us, this means implementing our experience in this area for other clients, which we see as an opportunity for further growth and proof of our strong base of know-how that we can offer to our existing as well as potential clients.
We expect an increase in the activities of our large Internet clients by tens of percent - both due to the growth in volumes due to the current trend and due to the relocation of activities that have been carried out so far in other warehouses or countries. We are pleased about that and I am happy for the trust that clients have in us. We expect higher pressure on prices, as we experienced in the last crisis in 2008. Companies will look for solutions to maintain their level of profitability and how to redress losses incurred due to government and their internal measures.
However, clients should be aware that the logistics companies themselves have been and still are being affected by the negative impact of the pandemic. Unemployment is rising slightly, but unfortunately, we do not feel it very much and we hope that the situation, especially with regard to seasonal workers, will improve significantly at the beginning of the summer. It will certainly be a challenging and challenging year, but such is logistics and for me personally, it is an everyday driving force.
Source: // Logistics systems