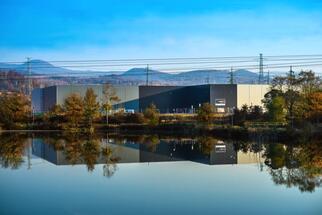 "I am not afraid to say that today, after thirteen years on the market, we have started another era of our company. From our new central warehouse, we will now supply not only the whole of Central Europe, but also Italy, Belgium, the Netherlands, France, Spain, Romania, and Croatia. Gradually, we plan to expand our distribution to the whole of Europe. We are now able to ship over 40,000 products every month, but we expect to more than double this in the future," commented Rudolf Janis, Managing Director of Sanitino.
The semi-automatic hall boasts the latest logistics technologies and an unusual solution with three mezzanines. That makes it possible to maximise the storage space and make the process of packing and dispatching goods more efficient and faster. As it also includes a picking tower, with conveyors and other demanding storage systems, it was necessary to increase the floor load capacity in this part of the building to 40 tonnes. The foundation piles with an impressive 30 metres length are also a major feature of the warehouse.
"We have been working on the transformation of old and sometimes long-dead industrial plants into modern industrial spaces in the Czech Republic for ten years now, and I have to say that it is a fascinating adventure. In our brownfield portfolio we have engineering plants, a trolleybus production plant, a coal mine and now, thanks to Hostomice, the famous glassworks. All these plants have one thing in common: in their time, they were a well-known name and often a job for hundreds or even thousands of people. Each successful transformation assures us that this path is the right one and that in time, it will lead to the creation of similarly famous operations," said Pavel Sovička, Managing Director Panattoni CZ&SK.
"This project shows why we place such an emphasis on brownfield revitalisation. The former glassworks site offers suitable conditions for companies in the field of light manufacturing, logistics and e-commerce, which will help stimulate the regional economy in the Ústí nad Labem region. The Park is located at the exit of the I/13 road, connecting the Ústí nad Labem region with the Liberec and Karlovy Vary regions, but also close to the D8 motorway leading to Germany. This gives companies the flexibility to distribute goods throughout Europe. In addition, the renovation of the site has succeeded in removing old environmental burdens," added Milan Kratina, CEO of the Accolade Group.
Panattoni Park Teplice South will bring a total of 300 new jobs to the Teplice region, of which 50 will be in the Sanitina hall alone. Furthermore, the project will also greatly benefit the village of Hostomice and its immediate surroundings as, after an extensive revitalisation, the site will be in its best ecological condition in 150 years.