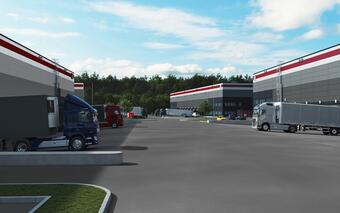 Completion of the construction of the first buildings is expected for the second quarter of this year. Units from 3,000 m2 to 30,000 m2 will be available in a total of five buildings. Near the park, there is a bus stop of suburban public transport with connections to Nýřany and Plzeň.
"P3 Plzeň Myslinka is a great place for the development of production or logistics business due to the proximity of the regional city and the D5 motorway. Thanks to the possibility of tailor-made construction, the new tenant can adapt the hall exactly to his ideas, which in practice is often more advantageous than renting a seemingly cheaper hall, but without the possibility of special construction or operational modifications," says Aleš Zacha, Senior Leasing & Development Manager at P3.

Interesting synergies could be brought by the fact that only six minutes away from here, in Nýřany, there is the P3 Plzeň park, which is very popular especially with manufacturing companies and companies focusing on the automotive industry. For logistics, the advantage can be not only a direct connection to the D5 motorway but also a nearby railway terminal for container transport.
Park P3 Plzeň Myslinka is not the only industrial park where the company currently offers tailor-made construction options. In the P3 Lovosice park, which is located next to the "Dresden" D8 motorway, up to 28,000 m2 is available for tailor-made construction. The company's flagship project is currently the construction of the P3 Ostrava Central commercial and industrial district, where the company will offer more than 150,000 m2 of space suitable for urban logistics, retail and e-commerce, as well as for light manufacturing or R&D, right in the wider center of the Silesian metropolis. All new buildings are built by the developer to achieve the internationally recognized BREEAM Very Good sustainability certification.
Source:// Retrend