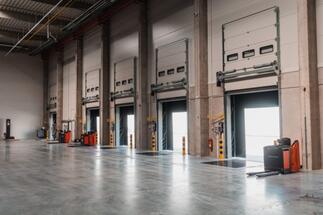 Panattoni has been expanding the industrial park in Týniště nad Orlicí since last autumn, when it started construction of two halls with an area of ​​16,000 and 9,000 square meters, based on the demand for vacant space. The tenant of the completed half of the first hall is the transport and logistics company C.S.Cargo, which has found a suitable place for the expansion of its e-commerce services.
"We wanted to build one joint distribution center for our client for the Czech market, which will consolidate all logistics activities from the unloading of containers to the operation of the e-shop. Thanks to the commitment of our employees and partners and many years of experience in logistics, even in the current not entirely favorable conditions in terms of rising inflation and lack of materials, we managed to do so in record time, "says Petr Volák, CEO of C.S.Cargo.
C.S.Cargo now has a total of 10,000 pallet places available on 8,000 square meters in the Panattoni Park Týniště industrial park. In the warehouse equipped with the latest technology, the goods imported from production will be unloaded, sorted, packaged and shipped or delivered according to the requirements of Jindřich Valenta - Concept customers.
"In connection with the expansion of sales, together with C.S.Cargo, we were looking for premises near the headquarters of our company. A suitable location and modern warehouse equipment will allow us to speed up and simplify distribution to customers and make our logistics processes as efficient as possible. I also consider it very beneficial to expand the warehouse space if necessary, "comments Jindřich Valenta, owner of Jindřich Valenta - Concept.
Panattoni started operating in Týniště nad Orlicí 10 years ago with the start of construction of the first hall for Assa Abloy. "I am pleased that we were able to build on this successful project with the logistics company C.S.Cargo. Together, we enable further growth for local entrepreneurs. I believe that the Panattoni Park Týniště project will be of great benefit to the economic development of the region, "says Pavel Sovička, Panattoni's General Manager for the Czech Republic and Slovakia.
The current expansion of Panattoni Park Týniště with two new halls is the first joint project of Panattoni and the Czech Real Estate Investment Fund (CREIF). The fund focuses primarily on regional retail parks with a dominant weight of food retailers and basic necessities (food, pharmacies, drugstores, etc.) and also on logistics buildings and light production facilities.