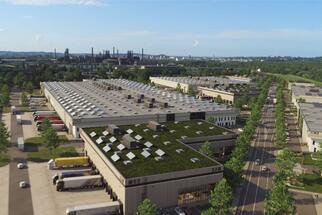 On the brownfield in the immediate vicinity of the Lower Vítkovice area, it is currently preparing a connection to one of the roads and three halls. Historically, the first tenant of the premises in the new complex will be Linde Material Handling Czech Republic.
"We are giving a new impetus to a location that has been a party of interest for years, and yet it is in the wider city center. We meaningfully fill the empty space on the map with opportunities for work and business development. In addition, after the completion, we will make the entire site accessible to the public and connect it to the city's infrastructure, "described Tomáš Míček, P3's director for the Czech Republic.
The company obtained a building permit at the end of last year. Three halls are now being built. The columns of hall L1, which will have an area of ​​28,000 square meters, are already rising on the site. Adjacent to this will be a smaller XS3 hall measuring 2,200 square meters and a unique free-standing XS1 hall measuring 1,200 square meters. "Smaller buildings are especially suitable for retail, where you can perfectly combine facilities for storage and showroom or business premises. The larger hall is then primarily intended for warehousing, logistics and light production, "explained the head of P3 development in the Czech Republic, Aleš Zacha.
Warehouse handling technology has a certain place in the P3 park
And it is the XS3 hall that already has its first tenant. Historically, the first company to sign a lease agreement at P3 Ostrava Central is Linde Material Handling Czech Republic. Its new branch for North Moravia will provide a wide range of services, in addition to the sale of new trucks, intralogistics solutions, robotic trucks and automation, there will be a wide portfolio of handling equipment for short-term rental, such as front forklifts, reach trucks, very narrow aisle trucks, but also work platforms for construction and assembly work.
The internal premises of the 2400 square meter branch will include a modern service center. There will also be an outdoor paved area of ​​almost 2,000 square meters, which will serve as a parking and exhibition space for handling equipment. There will also be charging stations for electric cars. Linde Material Handling Czech Republic is scheduled to move in early August this year.
"We wanted modern, tailor-made premises that will allow us to further expand our services in northern Moravia. We were looking for a location where we would see and be easily accessible to our customers, who not only use handling technology, but are interested in new trends in intralogistics, robotics and automation of their operations. We are also pleased to be able to offer our employees a modern working environment with excellent transport accessibility both by car and public transport, "said Pavel Osička, Sales Director and Procurator at Linde Material Handling Czech Republic.
"Future tenants are more interested in sustainability today than ever before. The same was the case with Linde Material Handling, which appreciates the use of the revitalized brownfield at P3 Ostrava Central, and the fact that the building will be built with BREEAM Excellent certification, "said Michal Barthell of Space Brokers, which brokered the transaction.
City logistics, e-commerce, showrooms, production and offices
The built-up area will be 160,000 square meters on the plot, which is bordered by the Místecká, Rudná roads, the Ostravice River and the DOV complex and has an area of ​​44 hectares. In total, up to 16 buildings of various purposes will be built here, all of a high standard. "The park will offer facilities for city logistics, e-commerce, showrooms, dispensaries, as well as light manufacturing, research centers and offices. There will be units for rent from 1,200 square meters up to 30,000 square meters and it will be possible to flexibly influence their shape, "added Aleš Zacha.
The transformation of the former raw material landfill into a modern commercial and industrial district will be carried out by the developer according to the design of architect David Kotek from Projektstudio, who supplemented the missing urban structure in connection with the surrounding buildings. The park retains some of its original industrial footprints, while complementing the greenery.