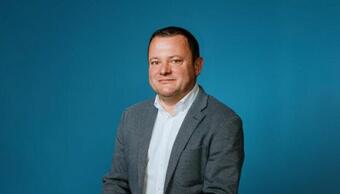 The main goal of this step is to strengthen the potential of both business lines of the company, respond to market requirements and better deal with the dynamics of expected growth in individual sectors. With the new management, both teams will be able to devote themselves to the development and further improvement of services and client care in full capacity, Colliers informs.
Both experts are no newcomers to the real estate market in the Czech Republic and the CEE region, they have been developing their careers here for more than two decades. Miroslav Kotek (pictured above) started his professional career in 1999 after studying economics and international relations at Charles University in the government agency CzechInvest, where he most recently held the post of head of the infrastructure development department. Since 2007, he has been working in the field of commercial industrial real estate, first at Jones Lang LaSalle, and since 2018 at Colliers. "The needs of tenants, developers and investors for quality consulting in the area of rental strategies and the search for development opportunities are currently creating many opportunities for our business in the Czech Republic. I am happy that I can build on the successes of my predecessor and further develop our services and projects in this ever-dynamic sector of the real estate market," says Miroslav Kotek, the new director of the industrial real estate department at Colliers Czech Republic, on his appointment.
Omar Sattar (pictured right) began his UK property career in 1994 when he joined Colliers as a graduate after studying land economics at the University of the West of Scotland. In 1997, Omar moved to the Czech Republic and since then held several senior positions in real estate and worked throughout the CEE region. Of his rich professional experience, it is worth mentioning his work at the company DTZ-Czech Republic, where he dealt with services in the field of valuation and investment consulting. From 2005 to 2011, he held the position of Director of the Investment Team for Central and Eastern Europe at Avestus Real Estate, an Irish private equity company. This was followed by his second stint at Colliers, namely as a director, which he held from 2011 to 2018. He is now returning here after a five-year break. Omar Sattar is a qualified RICS Chartered Valuer (MRICS).
"As part of our relentless drive to improve the quality of our services, it is always very important to have the best and most talented people on our teams. It is not only their experience and expertise that is important to us, but also their values and alignment with the Colliers culture. I am happy that the new management of our teams meets our expectations in this regard, and I look forward to working together and further developing our potential," says Tewfik Sabongui, managing partner at Colliers Czech.