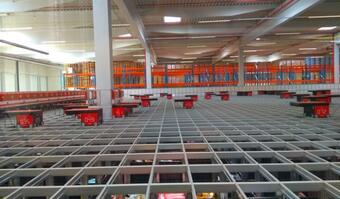 Rohlik.cz purchased so many robots because it is concerned with the maximum speed of storing and removing goods. This is also evidenced by other numbers – 50 ports for loading or picking or an average number of 30,000 pieces of picked goods per hour. The main interesting feature of the installation in Chrášťany is the division into dry and refrigerated storage (currently 7,000 crates), in the case of the "refrigerator" it is the first AutoStore installation in Europe.
AutoStore in Rohlík stores eleven layers on top of each other, each box can be further divided into four spaces by an insert. The logic of stocking is primarily governed by ABC analysis, then by the FEFO principle, and at least a 30% expiration period must also be taken into account. One box can contain goods with a total weight of up to 35 kilograms. The robotic unit reaches a speed of up to 70 km/h, "tests" with a glass of wine inserted into the box allegedly showed that the contents do not spill during acceleration and deceleration.
The new distribution center in Chrášťany is the third Rohlik.cz warehouse in Prague and the fourth in the Czech Republic. "In manual warehouses, we managed to increase productivity by 40 percent, but we can't go any higher. With the machine, we will add 30, but maybe up to 50 percent," says Olin Novák, CEO of Rohlik.cz. And he adds that thanks to the streamlining of processes in warehouses, including the one in Chrášťany, the company manages to deliver purchases in selected locations in 60 minutes.
Now the warehouse dispatches approximately 2,000 orders per day, full capacity utilization allows dispatching 10,000 to 14,000 orders. As another investment, they are considering the installation of robotic arms that would store goods in individual gates.
The entire warehouse in Chrášťany has an area of ​​14,000 square meters and is located in the logistics area of ​​the industrial developer Prologis. The hall has a clear height of only 10.5 m due to the nearby airport. For the same reason, the outer shell of the building is equipped with special ribbing that prevents reflections of radio waves. The operation of the online supermarket also required the installation of 20 smaller "delivery" doors, which are roofed.
Most of the lattice and other types of shelving were supplied by the Stow Group. The handling technology is from Toyota Material Handling CZ.