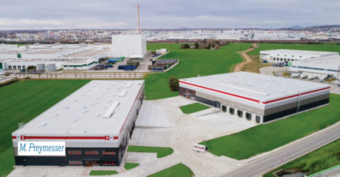 P3 Mladá Boleslav reports full occupancy
Park P3 Mladá Boleslav with the signing of a new contract announces full occupancy. Preymesser occupied a total of three units. Two of them are whole separate buildings and thus create a perfectly closed and safe "mini-area in the complex". Dur to its proximity to the Škoda Auto carmaker, suppliers or companies linked to the automotive industry use logistics and storage facilities here. This is no exception in the case of Preymesser. This company is a traditional international provider of logistics, especially in the automotive sector. In the park, other players in the automotive segment will keep her company, e.g. HP-Pelzer and Yapp Czech Automotive.
The market offer is currently very exhausted
"In order to further expand the logistics services we provide, we were looking for adequate warehousing capacity in the Mladá Boleslav region, which corresponds to the high standard of the automotive industry. It turned out to be not an easy task. The market offer is currently very exhausted. Alternatively, offered premisses are not provided with what the modern logistics halls for the automotive segment should look like," says Jan Nečas, Managing Director of M. Preymesser Logistics.
And it follows: "The P3 offer in Plazy was the best solution for us. Warehouses offer comfortable areas of a high standard that reflect both our needs and the needs of our target customer. Quality social and administrative facilities for employees and, last but not least, the area has good transport services with a connection to the backbone transport network in the area. At the same time, we will also be happy to give a shout out to the developer's approach. And not just for his willingness and flexibility. He also met our requirements to the maximum for retrofitting the complex to suit our needs. "
He adds: "We adapt the premises in P3 Mladá Boleslav to clients according to their specific needs. Already during the construction, we anticipated the needs of automotive logistics. Therefore, buildings enable several trucks at once to unload or load their loads, both from the side and from behind via hydraulic loading bridges. All halls are connected to a metropolitan optical network ensuring fast and stable connectivity, so important not only for the automotive industry. We are also building a total of 460 m2 of office and facilities according to the specifications of our new tenant. We are also pleased that, thanks to the LED lighting we have installed in the halls, we can also help our tenant with energy costs. "
P3 Mladá Boleslav is located in the industrial zone in Mladé Boleslav - Plazy. Near the D10 expressway connecting Prague with Liberec. Construction of the park began in 2009 and the last two buildings were completed this year. The total area of ​​the park is less than 40,000 m2.
Source:// Systémy logistiky