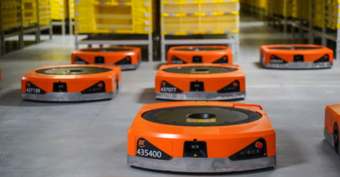 Amazon will be able to take advantage of a direct connection to the D1 motorway for freight transport and a rail corridor that will allow low-emission transport of employees beyond bus transport. The 52,000 sqm building will offer a record of nearly 190,000 sqm (including 13,000 sqm of office space and technical facilities) of lettable space over four floors. Up to 2,000 people are expected to work there during peak operation. The building will be delivered for occupation in 2022.
"This is a huge opportunity for the whole region, especially in terms of investment and a high number of new jobs. The Dobrovíz project was already imbued with modern technologies, but the current one will be several generations further away, and will also take advantage of the unique logistical possibilities offered by the multi-storey layout. Last but not least, I am delighted that the hall will be created by revitalising a brownfield site and will aspire to achieve an exceptionally high BREEAM environmental certification score," says Pavel Sovička, Panattoni's General Manager for the Czech Republic and Slovakia.
"From the very beginning, I consider the planned construction of the park to be a great opportunity for Kojetín. In recent years, like other small towns, we have been facing an outflow of mainly young residents leaving for better economic conditions. We expect the new complex to offer skilled jobs for all age groups. A pleasant bonus is a location behind the town by the motorway and the minimal occupation of arable land, which we are particularly pleased about in Haná," says Leoš Ptáček, Mayor of Kojetín.
"The fulfillment centre will be very different from the traditional idea of a warehouse. Employees will work with innovative technologies, including robotic units that will help them in the daily handling of customer orders and more efficient use of the warehouse space. These specialized robots will slide under shelves of products, pick them up and move them around the distribution center, helping to reduce the time it takes to process orders. In Kojetin, we will offer higher value-added work for qualified employees," explains Michal Šmíd, Amazon's General Manager for the Czech Republic.
The industrial complex will fulfill Panattoni's long-term strategy of Go Earthwise. The building will aim to achieve an Excellent rating under the prestigious BREEAM New Construction environmental certification according to the latest standards. It will be the first Panattoni facility to install photovoltaics on as much of the roof as possible. The actual construction will also be carried out in accordance with the most stringent sustainability requirements. This will include, for example, the environmentally friendly disposal of asbestos from the demolition of the original buildings, the on-site recycling of construction waste and the use of rail transport for the prefabricated parts of the building.