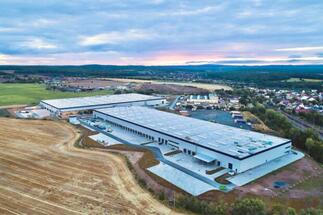 Air-to-water heat pumps are increasingly popular in new constructions and renovations of older buildings. According to Panasonic, the demand for them will double in the European market between 2019 and 2022, to three million units sold annually.
Fourfold growth
"During this period, Panasonic grew four times in the heat pump segment. For this reason, we decided to expand the production capacity at the Pilsen plant. And that's why we also need new storage spaces, which we found in nearby Nýřany in cooperation with our partner Panattoni," says Hiroshi Komatsubara, managing director of Panasonic Heating & Ventilation Air-Conditioning Czech.
"Panasonic has been a major manufacturer and employer in Pilsen since 1996, when it opened its first production hall here. At that time, it was the first Japanese investment in the Czech Republic. The original production was devoted to televisions, but today there are specialists in the complete production of air-to-water heat pumps. Considering that we also work with these technologies within our halls to achieve a reduction in energy costs and minimize the carbon footprint of buildings, it was significant that we were the clear choice for Panasonic," says Pavel Sovička, CEO of Panattoni for the Czech Republic and Slovakia.
Photovoltaics on the roof
Solar panels are installed on the building, which can potentially extend to the entire roof area. Near the hall there is also an insect hotel and infrastructure for bicycle transport, including bicycle lanes and covered racks. Thanks to this, according to Panattoni, the building aspires to obtain certification according to BREEAM New Construction at the Excellent level.
Panattoni's entire project revitalized an unused brownfield with an industrial tradition. The developer further states about it: "The Krimich I coal mine was historically located near the site of interest. It was mined here from 1867 to 1935, when mining was transferred to the newly opened Krimich II mine in Tlučná. The old mine was only used for pumping water and also supplied water to the town of Nýřany and the settlement of Pankrác. The mine originally belonged to the miner JUDr. Pankrác, from whom it was taken over by Škoda's plants in Pilsen. In the 1920s, Pilsen Škodovka built a thermal power plant here, which supplied Pilsen Škodovka, the town of Nýřany, as well as the ammunition factory and the Ziegler mine. The buildings of the former shaft and power plant were gradually rebuilt into the Likona Nýřany food plant from 1971."