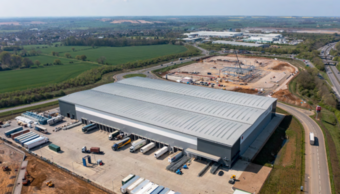 "The acquisition of these two UK industrial parks is a significant milestone for P3 as it enters a market where logistics is a very strong industry. The Crown lands have always been a hub for international trade, so we are excited to offer our expertise and resources to meet the evolving business needs of the region," comments Frank Pörschke, CEO of P3 Logistic Parks.
The newly acquired properties are located in the "Golden Triangle" and are connected to major transport arteries and key industrial centers of Great Britain. All buildings were built after 2010 to A standard and have BREEAM Very Good certification. The parks are fully occupied by three tenants.
P3 is partnering with Roebuck, an institutional pan-European investment manager specializing in the European logistics sector, to enter the UK market. Thanks to his extensive experience, he will manage both assets in the initial phase of P3's expansion into the UK.
"P3's entry into the UK market reflects our long-term vision and strategic growth plans. We have selected these logistics assets with great care and in line with our commitment to provide our customers with superior service quality, operational efficiency and sustainability," explains Otis Spencer, Chief Investment Officer of P3 Logistic Parks.
Segro Group Chief Investment Officer David Proctor added: "These relatively small stakes have been earmarked for sale in the near to medium term, enabling us to bring capital to our successful development programme. This acquisition also demonstrates the continued investment appeal of high-quality logistics assets following the significant valuation correction that has occurred over the past year."
The transaction was closed by Colliers on the P3 side and DTRE and ACRE on the Segro side. "These acquisitions are the good news the market needs. It is a clear demonstration that investor appetite for assets in key locations with long-term growth and opportunities for ESG performance remains. We are delighted to have been able to help P3 expand into a new market and provide targeted advice as it expands into a new jurisdiction," concludes Ed Plumley, Head of EMEA Capital Markets at Colliers.
P3 operates in 12 countries, has been building and investing in Europe for more than twenty years. The company is headquartered in Prague and employs over 250 people across 11 branches in key European cities, where it offers integrated services for development and building management.