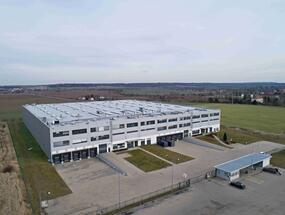 The company Müller-Technik CZ s.r.o. has been operating in the Czech Republic since 2006. It employs more than 150 people in the injection molding of technical parts, mainly for the automotive industry. The plant operates continuously in four shifts and therefore 450 to 500 pallets of finished products go to the warehouse from it every day. A similar volume of pallets also travels directly to customers every day, such as Faurecia, ADIENT, BMW, Brose, Volkswagen Group and Yanfeng. Approximately 9,000 plastic pallets, finished parts, purchased parts and packaging are stored in the warehouse in Stochov.
The shortest regular transport line in the entire region awaits the supply trucks here - the company's production plant is located five hundred meters from Stochov in neighboring Lány. It was the distance from production capacities that was one of the decisive arguments for moving to P3 Prague D6.
P3 Prague D6 is the newest industrial park in P3's offer. With its location close to the capital and its excellent connection to the motorway network, it connects to similar, highly sought-after logistics locations P3 Prague D1, P3 Prague D11 and P3 Prague D8. Another 17,000 m2 is available for further construction in P3 Prague D6 and tenants could move into the "new" 6 to 8 months after signing the contract.