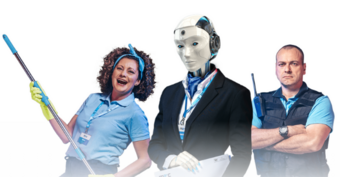 The global trend of outsourcing, where one company uses the services of specialized companies that have more experienced employees in the given issue, currently prevails in many companies in the Czech Republic. This will give companies the opportunity to focus fully on their core business. The same is true with the transition from in-house provision of facility services to the independent company M2C FM. This is a natural step for CPI, related to its long-term strategy to focus on its core business, investment and real estate management.
When choosing a facility management partner, M2C was the first and clear choice for CPIPG for many reasons. M2C is a major Central European company with international know-how. In addition, it is a stable company with many years of experience in facility management and many other fields. M2C has been providing professional services for real estate in the CPIPG Group for many years.
The business companies CPI Property and Facility were divided and the facility management division was sold
The business companies CPI Property and Facility have now been split and the facility management division has been sold. It will be newly covered by Mark2 Corporation, M2C FM, where both the CPI Property Group and M2C have ownership shares.
"Companies choose the form of outsourcing facility management services mainly due to improvements in their core business. The possibility of saving financial costs, greater flexibility or the transfer of part of the risks to another entity often also speaks for outsourcing," explains Matěj Bárta, co-owner of M2C.
"We are very pleased to have the opportunity to grow in the facility management segment together with CPI as the largest property owner in Central Europe. We appreciate the new employees we receive from CPI, as well as their high professional level achieved in the internal facility management division at CPI PG. By integrating it, we will strengthen our position on the market, increase our regional reach and continue to strive for the satisfaction of our clients and users of the buildings we take care of under the M2C brand," adds Matěj Bárta.
Source:// Systémy logistiky