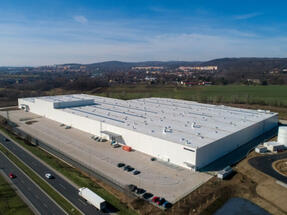 As early as June 2023, the Jungheinrich company in Chomutov started the production of the first type of truck - the ETV 216i retractor. The plant is the newest of Jungheinrich's 12 production sites worldwide and is becoming a central element in increasing efficiency and profitability as part of the company's Strategy 2025+.
"The new plant in Chomutov is one of the most modern production plants for forklift trucks in the world, which will take our production to a higher level. We are expanding our production capacity within the production network in Europe in order to ensure that the ever-increasing demand for our handling technology will also be met in the future," says Sabine Neuß, Technical Director at Jungheinrich AG.
Starting with the ETV 216i model, the entire production of trucks with an extendable column will gradually be moved to the plant in Chomutov. Jiří Rösner, director of Jungheinrich's Chomutov plant, adds: "We are happy to become part of the Jungheinrich family and to continue writing the success story of retro trucks in Chomutov. Our team continues to grow to make this vision a reality."
According to the company, the ETV 216i model is the first retro tractor in the world with a fully integrated lithium-ion battery and was developed in Norderstedt, Germany. After moving production to Chomutov, Jungheinrich will use the capacity that will be freed up at the Norderstedt plant to expand its production portfolio with spare parts for other order picking trucks.
When designing the new plant in Chomutov, Jungheinrich placed special emphasis on efficiency and sustainability. The entire plant, from workplaces to complex production equipment, uses state-of-the-art technology. In addition to a fully automated center for detailed metal processing, for example, it is equipped with an innovative painting line, which at the same time consumes less energy and material for high-quality powder coating. Production and assembly with a digital assistance system aim to ensure the efficiency and quality of the processes. Among other things, this is achieved through the use of artificial intelligence.
According to the company, the plant in Chomutov is energy efficient and optimized in terms of CO2 emissions. This makes it not only the most sustainable Jungheinrich has ever built. In addition to the use of ecological electricity and the installation of heat pumps, additional energy savings are ensured by special thermal insulation in the office premises. The company was able to reduce water consumption by using rainwater harvesting equipment. In addition, the plant is located on 1.5 hectares of green space with native shrubs and trees, helping to support local biodiversity.
Jungheinrich opened its first sales unit in the Czech Republic in 1992. Now, in addition to the new plant, the company is represented in the country by three branches and employs more than 360 people in total.