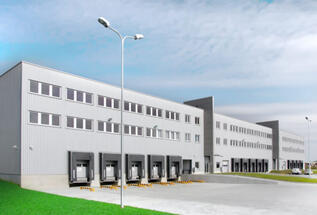 During the third quarter of 2021, the total area of ​​modern industrial space intended for lease exceeded 9.63 million square meters. 130,035 square meters were built in this quarter. Completed construction in the first to third quarters of 2021 reached a value of 248,829 square meters and is rather below average compared to previous years. For example, 587,959 square meters were completed in the same period last year.
621,424 square meters were under construction at the end of the third quarter. "If we add all the projects that are currently undergoing only initial landscaping, this number will be even higher. Despite all the unfavorable prices and availability of building materials, this is an enormous number of projects under construction. In the event that all currently under construction projects are completed next year, the limit of ten million square meters of modern industrial space will be exceeded in the Czech Republic for the first time, "predicts Jakub Holec, CEO of real estate consulting company 108 Agency.
Decreasing vacancy places demands on operational efficiency
Vacancy reached only 2.46% and is for rent 236,683 square meters throughout the Czech Republic. This condition does not improve in the long run and vacant areas in completed buildings are very rare. Low vacancy with a continuously declining trend places ever-increasing demands on operational efficiency. Companies also lack staff, with the worst situation being in industry and construction. Other obstacles that companies face are the high price of building materials, the long-term unavailability of critical components for production or soaring rental and energy prices. All this leads to the need to optimize operations and invest in the automation or robotization of routine activities, thanks to which companies can gain a significant competitive advantage. Year-on-year growth in industrial producer prices was 9.9%, agricultural producer 8.4%, construction work 6.8% and market services for enterprises 1.6%.
Gross realized demand for the first three quarters (Q1 to Q3) in 2021 reached 1,719,962 square meters and has the potential to exceed two million square meters by the end of the year. The continuing need for larger spaces across all industrial segments drives tenant demand and causes a permanent decline in vacancy rates. Developers respond to this situation with increased construction activity, mostly tailored to the client, who signs the contract before construction begins. "Speculative construction is not reaching a sufficient level to satisfy primary markets. The industrial market as a whole is further affected by the shortage of employees, the lack of various commodities such as AdBlue or building materials, rising prices and other adverse circumstances such as the energy situation. All these factors foretell difficult times for companies without sufficient capital. Automation and other strategies to ensure labor productivity will play a central role in the future, "says Michal Bílý, an analyst at 108 Agency.
Automation ensures a competitive advantage
The automation boom is confirmed by several practical examples. Rohlik Group plans to invest up to 400 million euros in warehouse automation. It will implement an automated warehousing and retrieval system (ASRS) in its distribution centers. The mailroom started operating PackMan robotic screens in its depots.
The largest announced third-quarter transaction is closely related to automation. This is Panattoni Park Kojetín, which will provide Amazon with a total of 173,771 square meters of industrial space and 13,016 square meters of office space and technical facilities. The four-story robotic distribution center, which is building Panattoni and Accolade on the former brownfield, is expected to be in operation by 2023. In addition to nearly 190,000 square meters for Amazon, XPO Logistics, which leased 60,046 square meters of industrial space in CTPark Bor, and lease 29,556 square meters for Drylock Technologies in VGP Park Hrádek nad Nisou.