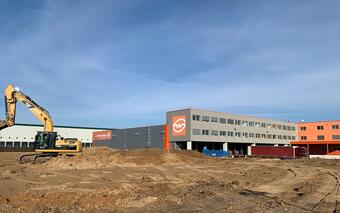 Preparations for the construction of a new transshipment hall in Janč began in March, and now the first phase of the actual construction has begun. It is to be completed in September this year.
"In accordance with our development plans, we have started to increase the capacity of the first of our backbone terminals in the Czech Republic. We see the expansion of branches and investments in the order of several million EUR as one of the indicators of our favorable position on the Czech market, which we want to continue to strengthen and consolidate," says Jan Kodada.
"The new part of the hall will be used primarily for transshipment, the newly created capacities will also free up additional space for the expansion of the logistics part of our operation. As part of the construction, we will increase the total number of transshipment ramps by 24. Half of them will be adapted for easier loading of small vehicles, ie especially B2C consignments. This will allow us to increase the speed of processing, but also the number of shipments in the B2C segment, which continues to grow. Modern technologies will then help to further increase the quality and efficiency of our services," explains Jan Kodada.
One of Gebrüder Weiss's four strategic corporate values ​​is sustainable development and a considerate approach to the environment. The company's activity in the field of using and testing the real use of alternative technologies was also reflected in the project of expanding the complex in Jenč.
"Together with the new hall, we are also building charging stations for electric cars. Gebrüder Weiss has set its own global strategy for carbon neutrality by 2030. And it is the development of the use of alternative drives and their support that is in line with this plan. The roofs of our halls, including the ones being built at the same time, are constructed with regard to the later construction of solar power plants. Therefore, we will be able to use the roof areas in the future for the implementation of this environmentally friendly energy solution," concludes Jan Kodada.
Source:// Systémy logistiky