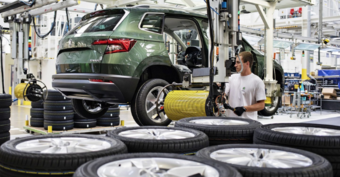 From January to April, a total of 453,385 passenger cars (+ 34.3%), 1,424 buses (+ 7.2%) and 361 motorcycles (+ 167.4%) were produced in the Czech Republic. In the year-on-year comparison, however, it is necessary to take into account the fact that last year production practically stopped in the second half of March and in April, with a few exceptions.
Gradual return to the volume of production from before the outbreak of the pandemic
"In the course of the year so far, we have seen with a slight optimism a gradual return to the volume of production from before the coronavirus pandemic. While in the first three months the production of passenger cars was lower by 8.6% compared to 2019, between January and April this difference was only 7.4%. This confirms the continuing interest in Czech vehicles in a situation where total sales in our main European markets remain almost a quarter below pre-crisis values," comments Zdeněk Petzl, Executive Director of the Association of the Automotive Industry.
"It simply came to our notice then. Automakers are struggling with a shortage of semiconductors, and the lack of input raw materials and the associated significant increase in their prices are also reflected in production. Due to this, we expect a loss of another 5 to 10 percent of production volume this year, which customers would otherwise be interested in. For companies, the current situation means the need for continuous interventions in the production plan and supply outages of some combinations or models. On the customer's side, the extension of waiting periods, the reduction of supply and the risk of rising vehicle prices. Although the situation in production is not as dramatic as last spring, when the automotive industry came to a complete halt for several weeks, the industry is very nervous," adds Petzl.
From January to April this year, 453,385 vehicles were produced (+ 34.3% year-on-year), and in April alone 121,488 vehicles (+ 732.7%). So far during the year, the largest carmaker, ŠKODA AUTO, has been particularly successful. It has already produced a total of 305,305 cars (+ 39.8%), which is only 1.6% less than in the same period in 2019. In April, it produced 80,190 cars, bringing the pre-crisis production volume by as much as 1.5% overtook. The carmaker continues to hold a dominant position in the Czech automotive industry with more than a two-thirds share.
In the first four months of the year, Hyundai from Nošovice produced a total of 90,400 vehicles (+ 37.2%), and in April 24,700 cars rolled off the production lines. From January to April, 57,680 vehicles (+ 8.4%) were produced in Toyota, and in April a total of 16,598 vehicles were produced.
Of the total number of passenger cars produced, a total of 42,732 were electric; this corresponds to a share of the total production of 9.4%. For the first time, battery electric vehicles (BEVs) accounted for a larger share of production than those with plug-in hybrids. A total of 22,338 electric cars and 20,394 hybrids were produced, of which Škoda produced 15,824 BEV and 15,370 PHEV and Hyundai 6,514 BEV and 5,024 PHEV.
Source:// Systémy logistiky