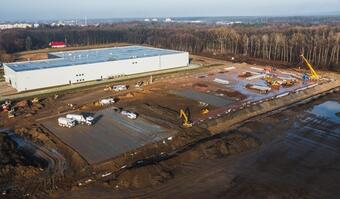 The start of speculative construction was a strategic decision that reflects the long-term situation in the Hradec Králové region. Since 2018, there have been no immediate occupancy areas on the market and all new warehouse and production facilities have been secured in advance. Manufacturing, logistics or distribution companies that are interested in expanding rapidly in the wider region (Hradec Králové, Pardubice, Liberec) are facing long delivery times, especially in the last 12 months. In the long run, there is zero vacancy in these three named regions.
Panattoni and DRFG obtained a building permit for 2 halls during 2021 and in Q4 2021 began landscaping and construction of buildings intended for storage or light production. Speculative construction is a way to offer premises for rent to tenants who are not able to wait 12 or more months for the delivery of areas or are looking for premises with already guaranteed delivery dates.
The park in Týniště is locally located within a short driving distance of Hradec Králové, the Škoda production plant in Kvasiny, Pardubice and also the newly completed part of the D35 motorway (exit to Rokytno).
The renowned general contractor Goldbeck will sign the Panattoni Park Týniště. As both buildings in the park are currently under construction, we are working on specific completion dates. Delivery of the first hall with a size of 16,300 m2 is scheduled for May 2022 and the second with an area of ​​9,700 m2 two months later.