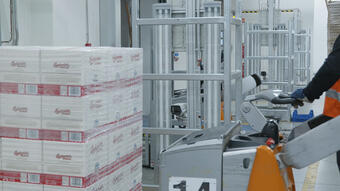 Budvar is proud that its beer has only ever been made in the historic brewing town of České Budějovice (Budweis). In recent years, however, the company has been forced to enlarge its logistical capacity and capability in Budweis to meet the growing global demand for products. In order to increase production efficiently, Budvar invested in a new high bay automated warehouse that can manage 19,000 pallets at any one time. ZetesMedea provides a key part of the overall solution, empowering forklift truck drivers with automated loading capability at the dock door. Incorporating Zetes ImageID technology (machine vision), the system automatically captures and verifies pallet barcode information for real-time visibility and 100% shipping accuracy.
Dock door control innovation
Efficiently transporting prepared pallets into the warehouse and onto trucks at the dock door is a critical element of Budvar's logistics. Zetes' advanced camera-based solution monitors and controls the correct loading of pallets, alerting truck drivers to any errors. One truck can be loaded by several forklifts concurrently, minimising human intervention and human error and saving time.
Zero loading errors - guaranteed
The innovative solution is based on 13 ImageID gates with a central server application communicating directly with the WMS. Central dock door monitoring allows one dispatcher to monitor and control (and intervene if necessary) all 13 gates remotely, in real-time. ZetesMedea ensures proof of loading and shipping with photo evidence to avoid potential claims or disputes. The predicted savings will help Budějovický Budvar accelerate growth without the need to hire extra workers.
"With ZetesMedea ImageID, we are saving time and labour costs whilst increasing production to ship globally with accuracy." Pavel Panek, Head of Logistics, Budějovický Budvar
"The beer brewing process in our town dates back to the 13th century. We want to maintain such legacies whilst investing in modern logistics and this is what ZetesMedea enables. We needed a trusted technology partner to automate loading of prepared pallets onto trucks at the dock door. With ZetesMedea ImageID, we are saving time and labour costs whilst increasing production to ship globally with accuracy."
Pavel Panek, Head of Logistics, Budějovický Budvar
"We are delighted to help optimise outbound logistics for Budějovický Budvar. ZetesMedea provides autonomy for truck drivers and ensures loading and shipping are both accurate and fast. Manpower is minimised, facilitating unattended handling with real-time visibility and control."
Milan Ludvik, Country Manager, Zetes Czech Republic
Source:// Zetes