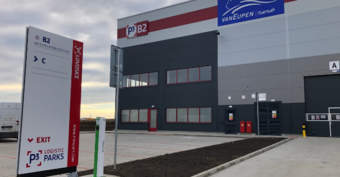 Sustainability is becoming an important aspect in many areas of business. In the industrial real estate segment, it is particularly important to create sustainable solutions, even with regard to the current boom in e-commerce. The industrial developer P3 applies this principle in all newly built buildings and demonstrates it as a model in the P3 Lovosice industrial park, where one of the buildings was successfully certified to the internationally recognized Breeam sustainability standard, even at the Excellent level. "The Lovosice hall for Van Eupen has currently achieved the highest Breeam rating in the entire P3 portfolio. However, our ambitions are even higher in this direction, which is why we believe that it will soon be replaced by another, even "greener" building, "says Tomáš Kubín, head of P3 construction for Central and Eastern Europe.
Most of the material used for construction meets the Environmental Product Declaration III standard
Hall B2 in the Lovosice Industrial Park, which will be used by Van Eupen for reverse logistics and servicing of smartphones, tablets and laptops of leading world brands, is a measure of a modern and sustainable standard of industrial buildings. Most of the material used for construction complies with the Environmental Product Declaration III standard, which guarantees that it will not have a negative impact on the environment during its life cycle. In addition, building materials are resistant to wear by natural factors such as sunlight or changes in temperature and humidity. The air conditioning system then uses refrigerant, which has a lower potential to contribute to the greenhouse effect in the atmosphere. All external lighting of the building is provided by LED luminaires, which are set to reduce light smog so that they effectively illuminate the handling areas and do not shine into the surroundings.
"The magic of sustainable solutions lies in details that are often not visible at first glance - from the EPD-certified materials used, to the recessed rainwater retention tanks, to such little things as energy-saving taps. Colleagues in Mszczonów, Poland, managed to reduce water consumption by up to 55% by choosing low-flow faucets. Thanks to this, the park has obtained the historically highest Breeam certification on the entire Polish market, "points out another successful project, Tomáš Kubín.
Woods and grasses help increase biodiversity and do not require artificial irrigation
However, sustainable solutions in the construction of industrial parks do not have to be limited to the buildings themselves. Equally important is the immediate surroundings, which help P3 "green" landscape architects in P3. They propose the concept of greenery for parks, which naturally harmonizes with the character of the surrounding landscape. Properly selected trees and grasses help increase biodiversity and do not require artificial irrigation. Trees around parks reduce dust and provide protection. In addition, the densely populated surface naturally protects against the wind, reduces water evaporation and thus helps to preserve it.
Source: // Systémy logistiky