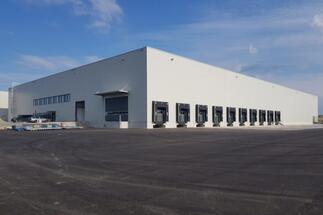 In addition to Blučina, the company produces new branches in Pilsen-Nýřany and in Prague
Emons in the Czech Republic benefits from many years of experience and a stable background of the parent company Emons in Germany. Despite the effects of the Covid-19 measure, it grew in the first half of this year and in a number of shipments. In addition to Blučina, they provide new branches in Pilsen-Nýřany or in Prague. "Brno and the South Moravian Region in general is one of our key locations. Among other things, for a number of our clients from the field of engineering and other industries. We capitalize on our proven processes, knowledge of the local environment and connection with the German-language market, in both directions," explains Luděk Kohout, Emons' sales manager, about the choice of Blučina near Brno.
The importance of Brno on the local logistics market is also confirmed by the data of the international consulting company BNP Paribas Real Estate. According to her, the South Moravian Region in Prague and Pilsen is the third largest logistics market in the Czech Republic. In the first half of this year alone, 17,740 m2 of modern warehouse space was delivered on the best market. Leases were concluded for 42200 m2. The current capacity exceeds 1.14 million m2. Another 65,000 m22 is under construction.
The specifics of the new branch is a seven-meter ramp
The specifics of the new Emons Brno-Blučina branch is a seven-meter ramp. It guarantees comfortable and safe handling of consignments of transported collection service systems that are long or otherwise atypical. The branch responds to all strict decisions on safety measures and the environment. For this purpose, the outdoor handling area for gigaliner sets, 25 meters long, has been extended. The large volume is almost 140 m3.
The branch is a combination of a transhipment and a logistics terminal for the purposes of contract logistics. There are 2000 m2 of racks in 10 rows up to a height of 9.5 m each. It is a matter of deciding on a modular racking system from a proven supplier, Galler, which enables optimal production of a pallet of various sizes.
The camera system can detect the movements of individual shipments
The warehouse is tempered and equipped with a camera and security system connected to a centralized security desk. This will ensure non-stop inspection of the hall and stored goods. The integrated camera system can detect the movements of individual shipments so that it can be traced back.
In addition to new or expanded depots in Pilsen and Prague, Emons has also expanded to branches in Slovakia in Bratislava. This enables the delivery of goods through a collection service system in a very short time and with a quality guarantee, which is created on the use of our own fleet and long-term experience.
"From our point of view, logistics is not yet facing the major impacts of the covid-19 crisis. Trends may change, with transport or warehousing services having great potential even in times of decline in some industries. However, our customers from various industries expect new services and products. Emphasis is placed on information technology, accuracy and communication," concludes Luděk Kohout.
Source:// Systémy logistiky