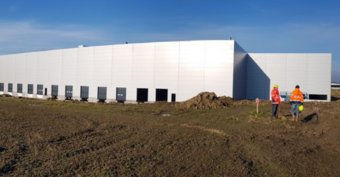 The construction of a new distribution center for the company Partner in Pet Food has been underway in the CSPPark project in Planá nad Lužnicí since the summer of last year. The total investment in it exceeds the amount of 200 million Czech crowns. The project is conceived as the consolidation of shipments mainly from the company's two main production plants in the Czech Republic to one logistics center. In it, C.S.Cargo will provide other value-added services (such as mixing or repacking pallets according to the client's wishes) and distribution to final customers in countries in the European Union.
Objective: to reduce operating costs and increase flexibility and quality of supply
"By signing the project, our company is expanding its activities in the pet food segment. It has a growing trend and we have had it in our viewfinder for a long time. The aim of this change is to reduce operating costs and increase flexibility and quality of supply. We plan 40,000 pallets in/out with approximately 1,400 trucks per month. With this step, we are also strengthening and expanding cross-docking services to the South Bohemian region with a possible connection to Austria," describes Michal Vecsey, Sales Director of the C.S.Cargo Group.
"C.S.Cargo approached us with a project to build a distribution center. In deciding whether to join this project, the fact that it is a large and strong player in the market played a role," says Michal Kadrnožka from CSPPark.
The takeover of the warehouse from the construction contractor is scheduled for the second half of May 2021, and the start of customer service on June 1, 2021.