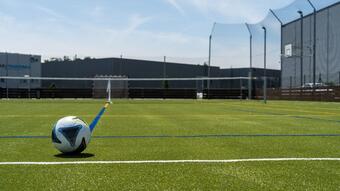 The football pitch and adjacent BBQ area in Rudná are now finished and ready to be enjoyed by everyone working at the park. The pitch can double up as a tennis court and basketball court, with the BBQ area a great place for fans to sit back and enjoy the sports!
The new football pitch at Prologis Park Prague D1 East is slated for completion this summer, ready to provide outdoor enjoyment during a work break or a perfect opportunity for team-building at the end of the day.
"PARKlife™ is all about making our parks pleasant places to be and work. We want people in our parks to come to work with smiles on their faces and a positive attitude for the day ahead. Fresh air and exercise are crucial for their health and wellbeing, and these outdoor facilities are also ideal for fostering a sense of togetherness," said Pavla Procházková, Real Estate and Customer Experience Lead, Director, at Prologis.
The new five-a-side football pitches resemble the pitch already in place at Prologis Park Bratislava, where an annual football tournament is a major fixture on the local calendar. And the new pitch at Prologis Park Prague-Rudná will also host a similar event this year with the first edition of a tournament organized in a spirit of sportsmanship and healthy competition.
Other PARKlife™ amenities at Prologis parks in Central Europe include cross-fit areas, Book Boxes for book sharing, and a car-pooling system saving CO2 emissions while boosting community spirit among park workers.
At Prologis parks, employees have the best possible environments in which to thrive as individuals and teams. This gives our customers the best chance to find and retain the right workforce. Whether it's boosting the wellbeing of employees at our parks, making our locations into communities, or helping our customers develop, togetherness is… Made in Prologis.