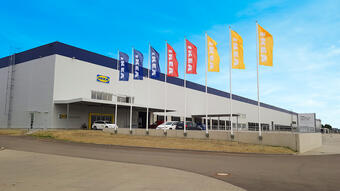 The multimodal Panattoni complex at Brno Tuřany Airport offers a strategic location to provide services to a wide range of customers and has excellent technological equipment for a modern and sustainable way of doing business. In fact, the entire complex of buildings is certified by the latest BREEAM New Construction rating for environmentally friendly industrial construction. The customer parking is tailored to IKEA requirements. The car park has a very slight incline to make it easier for customers to handle goods when loading their cars.
"Customers pick up products from an external drop-off warehouse that are not stocked directly at the IKEA store. For example, various modular systems - wardrobes or kitchen units. We want to make shopping here more pleasant and easier for customers, especially thanks to the modern environment and good transport accessibility," says Jaroslav Šenkyřík from the Market Establishment department of IKEA Czech Republic.
"We build business properties that are an integral part of all of our lives. IKEA's use of the building we built near Brno park demonstrates its flexibility and long-term sustainable tenant value for a wide range of companies. We look forward to welcoming IKEA and their customers to our park!" says Pavel Sovička, Managing Director of Panattoni for the Czech Republic and Slovakia, which built all the facilities on the site.