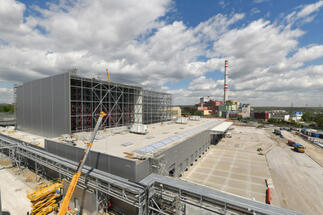 The new warehouse will be unique with its technologies, which are environmentally friendly and at the same time make the strenuous work easier for people. The goods will be transported from the bottling line to the warehouse using an automatic mobile system on the tracks. With it, the goods will automatically arrive from the place of storage to check-in. The goods will be stored on pallets on the shelves that the brewery is now building using crane stackers.
"The new sheathed self-supporting rack warehouse in Pilsen will be the most modern warehouse we have in our breweries. Thanks to the system of shelves and the method of transporting goods, we will not only save space, but also reduce the cost of transporting goods and also the amount of CO2 produced, which fits into our sustainability strategy. The warehouse building will be energy neutral in the long term, and we plan to install photovoltaic panels on the roof. In addition, the crane stackers will be equipped with recuperation technology, which saves energy, "adds František Holý, warehouse manager at Plzeňský Prazdroj.
The new warehouse is being built on an area of ​​10,000 square meters, ie roughly on the area of ​​one and a half football fields. Its construction began last year, and should be ready by the end of this year. It will have a capacity of about 16,000 pallets (approximately 18 million beers), ie 7.5 thousand more than the existing warehouse.
"This is a major investment that will improve and streamline the storage of bottles and cans and speed up the dispatch of our beers and other beverages from the brewery. Thanks to the new warehouse, we will be able to handle a larger number of consignments and thus supply our customers faster. At the moment, however, we are already thinking about the second phase, ie its expansion. This would double the current storage capacity of the Pilsen brewery, "says František Holý.
In the future, Prazdroj plans to build a new bottling line for returnable glass bottles on the site of the existing warehouse. This type of packaging is the best-selling in its portfolio, and in terms of environmental impact, returnable glass bottles are the most environmentally friendly choice in the packaged beer segment. That is why the brewery wants to focus on them in the future, the company informs.