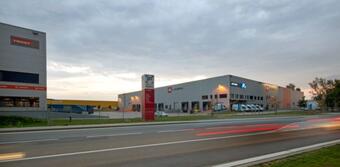 The new building F completes the construction of the P3 Olomouc park. The hall with an area of ​​4700 m2 takes into account elements of sustainable development, the installation of solar panels is being prepared on the roof. Thanks to this, he also aspires to be Breeam Excellent certified.
Synergies with the existing distribution center were one of the important factors
"Working with P3 will allow us to respond quickly to the needs of our customers in the region. In our stores, they can buy ever fresher and tastier food. Synergies with our existing distribution center were one of the important factors that decided on the choice of location, "said Julien Bernadet, acquisition, asset & letting director Albert Czech Republic, about the selection of premises in P3 Olomouc.
"Albert has been our neighbor in Olomouc for many years, which is why we are extremely pleased that he is now becoming our partner in the P3 Olomouc park. The new hall is growing just a few hundred meters from the existing distribution center, so it would be very difficult for a client to find better conditions for business expansion in a given location, "says Ondřej Titz, development manager at P3 Parks.
Albert will now be one of the diverse range of tenants of the P3 Olomouc logistics park, such as Activa, V-podlahy or Trost, which has a car accessories store on site. From the logistics companies, the parcel carrier PPL is based here, and the global logistics giant DHL also has its terminal here. Erreka Plast then manufactures plastic components for trucks directly on site. In addition to the connection to the motorway, not only manufacturing companies certainly appreciate the proximity of public transport or the ample parking spaces for employees.