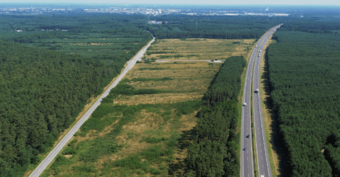 The Panattoni Park Bratislava North logistics complex will be built on land with an area of ​​330,000 square meters near the village of Plavecký Štvrtok with a connection to the D2 motorway. The total amount of the investment will exceed the amount of 1.5 billion crowns. In the first phase, two modern halls with a number of sustainable elements with an area of ​​12,000 and 6,000 square meters will be built in the area. Both halls, in the highest production and logistics standard, will aim for a high evaluation of the international environmental certification Breeam New Construction.
The coronavirus pandemic significantly increased demand
"The coronavirus pandemic has significantly increased the demand for logistics centers, so BHS Real Estate Fund has decided to enter this dynamically developing part of the real estate market," says Pavel Borovička, CEO of BHS REF.
"I am glad that for the third Panattoni project in Slovakia we got this location where the long-term potential was presented in the past, but there was no investor and builder of industrial real estate to fully discover and develop it," says Erik Ivaničko, director of the Slovak branch Panattoni.
The establishment of the Panattoni Park Bratislava North complex will increase supply capacities, which will significantly increase the efficiency of the operation of commercial and industrial enterprises in the vicinity of Bratislava. In addition, the expansion of companies into the desired region will be supported, which is currently tight due to limited logistics capacities. The park will bring benefits for the region, self-government but also for citizens. In addition to supply chain development, the new park will also help develop e-commerce.
Increasing portfolio diversification
"The start of cooperation with the investment fund BHS Real Estate Fund confirms the growing interest of investors in quality logistics in the Czech Republic and Slovakia. The industrial real estate segment offers investors a very interesting return-to-risk ratio in the long term, with the demand for these types of transactions increasing in the last few years, "says Karel Klečka, Panattoni's Capital Markets Director for Europe.
"BHS Real Estate Fund has so far focused mainly on investments in modern office buildings in the Czech Republic. Thanks to the new Panattoni Park Bratislava North project, the diversification of our existing portfolio will increase, which will bring many benefits to our clients, "says Zdeněk Lepka, CEO of real estate companies BHS REF.
BHS Real Estate Fund SICAV, a.s. is a fund of qualified investors, established by the securities trader BH Securities a.s. according to Czech law and administered by the investment company AMISTA. Investors have the opportunity to enhance their resources in the Fund through investments in commercial real estate.