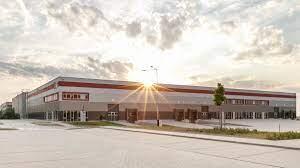 "We are building parks in attractive localities. What is more important, we can start construction fast. We are able to propose to logistics companies and manufacturing firms a warehouse customised to their needs within a reasonably short time limit. The time spent on the initial preparation of projects pays off several months later in the form of glitch-free operation," says Tomáš Kubín, P3's Head of Construction CEE and CZ.
Land is in Short Supply in Prague's Vicinity (and Elsewhere)
Last year, P3 completed several interesting acquisitions, which included a smaller park in Stochov, a Central Bohemian town comfortably accessible from Prague's western suburbs. The European industrial developer plans to build another warehouse there with a floor area of 17,000 m2 in addition to an existing facility used by Müller Technik to assemble and distribute automotive components manufactured by the company. In addition, P3 offers tenants the lease of smaller units as well. "This is one of the last opportunities to carry out a development of such a scope in the vicinity of Prague. Currently, most inquiries we receive concern this locality," reveals Daniel Kubizňák, P3's Head of Leasing and Development.
The P3 Lovosice Park is relatively well accessible from Prague (40 minutes) and at the same time close to the German border (60 minutes). The site has sufficient space for the construction of warehouse with a combined capacity of close to 28,000 m2, mostly for logistics and light manufacturing. Tenants currently conducting business in the park include FM Logistic and the owner of retail furniture chain XLMX. Another client that has recently relocated to the park is VanEupen, a firm specializing in reverse logistics and electrical appliance servicing. "A Built-to-Suit facility is definitely the right choice for a manufacturing company that employs a large workforce. The number of workers during a shift and their position on the worksite are determining factors for such parameters as the location of skylights and the ventilation capacity. Dealing with such issues in an already finished warehouse would be lengthy and costly for the tenant," Kubín explains.
New Industrial Parks Grow both in the Centre and on the Outskirts
Another brand-new park that will benefit from a good connection to Germany via Highway D5 is P3 Plzeň Myslinka, located about 12 kilometres from Pilsen's centre and 4 km from the highway exit near the municipality of Myslinka. The park will feature five warehouses with units ranging from 3,000 m2 to 30,000 m2. The construction of the first facility will begin this spring, and it will be ready for the first tenants at the turn of the year. "Interesting synergies could be achieved by the fact that the P3 Pilsen Park, very popular among manufacturing firms and companies serving the automotive industry, is located in Nýřany at a traveling distance of only six minutes. An advantage for logistical operations is not only the site's direct connection to Highway D5, but also a nearby railway terminal," Kubizňák adds.
P3 is planning to build another park on a brownfield in the greater central area of Ostrava, in the vicinity of the Lower Vítkovice Area. Named P3 Ostrava Central, the strategically located commercial and industrial district will has been designed to cater to modern urban logistics trends. "Spanning over 110 acres, the site will provide suitable facilities for both logistics and manufacturing, and feature excellent connections to municipal public transport and major roads and railways. These attributes and much more provide a high potential for retail and e-commerce. Smaller buildings on the site will be ideal for sample rooms, showrooms, or outlets directly serving customers, such as servicing centres or pickup points," explains Kubizňák, adding that the size of offered units will range from 1,500 m2 to as much as 30,000 m2. "The project will be incorporated into the local industrial area. At the same time, we want to create numerous sustainable solutions that will have a favourable impact on the environment as well as on the effectiveness of the operation of the complex and individual buildings. By using these features, which will include green façades, the use of rainwater, local sources of heat, and efficient combinations of natural and artificial lighting, we want to bring the comfort offered by industrial buildings to a higher level," Kubín adds. Construction is expected to begin at the end of this year, and the first tenants will move in by the summer of next year.
More and more clients are opting for P3's Built-to-Suit services. As the developer, owner, lessor, and manager of industrial facilities, P3 is able to meet the needs of its clients already during the design of their future warehouses. This way, tenants do not have to worry about subsequent remodelling work and can rest assured that every last details of their new facilities will meet their needs.
Source:// P3 Parks