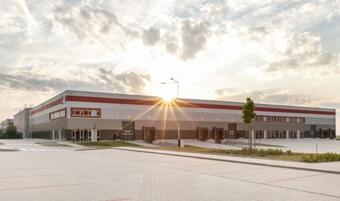 This year, P3 celebrated 20 years on the market. I am pleased that the Czech P3 team manages to focus on the current needs of tenants and at the same time the future development of our parks. Thanks to this, we have a very successful year behind us, which we will continue to build on in the next period, "says Tomáš Míček, P3's director for the Czech Republic.
The average length of rentals is increasing
Last year, P3 newly leased 430,000 square meters, which is almost a third of its Czech portfolio. It recorded excellent results a year earlier, when it was 295,000 square meters, so the year-on-year increase is around 45%, ie almost half. In total, the leasing team concluded a record 76 contracts, which means an average of about 1.5 contracts concluded per week.
"The year 2021 highlighted, among other things, the importance of responding flexibly. On the one hand, we observed a sharp increase in e-commerce, on the other hand, we experienced a reduction in production in the automotive industry and outages in supply chains. I am very glad that we were able, thanks to the diversity of our portfolio, to always be able to offer our tenants a suitable solution to their current needs, "says Jan Andrus, P3 Leasing Director for the Czech Republic.
The largest transaction concluded was the extension of the contract with FM Česká in P3 Lovosice and the extension of the leased area to 60,000 square meters. Generally speaking, the average length of rents is increasing. P3 parks also welcomed brand new tenants such as Billa, Quick Service Logistics, GGT CZ, Škoda Auto, Saint Gobain, or Ecologistics. New business cases accounted for about a quarter of all contracts concluded.
It is also interesting that not only warehouse or industrial premises were always leased. There are also offices in the P3 portfolio. Without a connection to warehouse space, P3 leased 3,800 square meters of offices in 2021. Their advantage is, in addition to a good standard, also convenient transport accessibility and the possibility of parking.
Development P3 scored in Prague and Ostrava
The construction segment also faced complications in 2021. Rising material prices and a shortage of construction workers nevertheless did not prevent industrial developer P3 from continuing to build parks.
Two new buildings are being built near Prague, and three are being built in Ostrava. "A hall with a size of 7,500 square meters will be added on the eastern edge of Prague in P3 Prague D11, and a hall with a size of 16,500 square meters will be built in P3 Prague D6 to the west of Prague in Stochov, Central Bohemia. The Vítkovice brownfield is being prepared for a hall with an area of ​​28,500 square meters and two smaller ones with sizes of 1,500 square meters and 2,200 square meters, "reveals the new head of development, Aleš Zacha. P3 has another 250,000 square meters ready for tailor-made construction in P3 Ostrava Central, but also in P3 Plzeň Myslinka or P3 Lovosice.
All newly built P3 buildings are BREEAM Very Good or higher. Tenants are sure that the new premises are built not only with regard to the living but also the working environment. The certificate itself is a guarantee that the building has been fairly evaluated and is internationally recognized as sustainable. In addition, P3 applies the newly developed Green Concept for the development of its parks, which was created in cooperation with the Flera studio.
Two decades on the market
At the international trade fair Expo Real 2021, the company celebrated its 20th anniversary in the field of industrial development. P3 was founded in Prague at the turn of the millennium and, from humble beginnings, has grown into one of the most important players in the European industrial and real estate market.