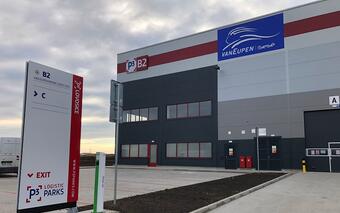 "P3 has once again confirmed that it has space for a wide range of tenants. From small to large, from e-commerce, through retail to logistics, "confirmed the head of leases at P3 Jan Andrus.
The current trend is that whoever wants to rent large areas must go to Prague. The borders of the capital on an imaginary logistics map are moving further from Central Bohemia to the regions. Thanks to the short travel time, Lovosice, for example, is a suitable alternative. It is about 40 minutes from the local P3 park to the Prague ring road, and this is exactly what the logistics companies Ekologistics and Impuls Logistics bet on, whose leased areas exceed 30,000 square meters in total.
Prague rarely offers areas over 5,000 square meters. An exception to the rule in last year's successful P3 campaign is two contracts. At the right time, the offer of vacant space in P3 Prague Horní Počernice with an area of ​​11,300 m2 intersected with Billa's demand for the background of a new distribution center. As a result, the retailer can supply fresher food and with a lower environmental footprint. In the neighboring park P3 Prague D11, the newly built building offered 7,439 m2 of space, in which Quick Service Logistic created a "large-area refrigerator with freezer" for storing food in a special mode.
BILLA in P3 Prague Horní Počernice
In total, new tenants in Prague's P3 parks came to almost 40,000 m2, but 14 of them share them. Most often, new tenants rented areas in the thousands of m2 (average 2,820 m2). The range of stored goods is very diverse: carpets, household appliances, tobacco, beer, electronics or spare parts and car windows. Sometimes it is possible to place an extremely interesting project in the industrial hall, such as a space for the development and testing of Škoda Auto's sales premises.
Thanks to the good location of industrial parks within reach of Prague's public transport and sufficient parking capacities, interest in office space is also growing. Last year, P3 leased 3,800 m2 of office space separately, without connection to the warehouse, of which almost half was leased to four new tenants in the Hornočernice park. They deal with energy, telecommunications, real estate and truck transport.
However, Prague is not the only locality that new tenants are interested in. Other logistically attractive locations include Pilsen. In P3 Park in Nýřany, Alllog Consulting leased 5,700 m2 on a short-term basis and 2,661 m2 was leased by Boomerang Distribution.
This year, P3 can also offer new tenants premises in the planned parks P3 Plzeň Myslinka, P3 Ostrava Central and in the already mentioned park P3 Lovosice.
About P3 Logistic Parks
P3 is a long-term owner, manager and developer of European industrial properties with a total leasable area of ​​over 6.3 million m2 and land in key logistics locations ready for immediate construction with an area of ​​1.2 million m2. P3 operates in 11 countries, has been building and investing in Europe for more than twenty years. The company is headquartered in Prague and employs over 200 people across 11 branches in key European cities. It offers integrated services for building development and management in its branches.
In the Czech Republic, P3 owns and manages a total of 80 industrial properties in 19 parks with a total leasable area of ​​almost 1.4 million m2. All parks have a strategic location with excellent connections to important roads.