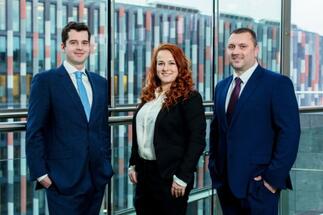 Pavel Rufert, who has now been appointed director of Logicor Czech Republic, established a permanent Prague office in the spring of 2021 and since then has significantly expanded the scope of the company in the Czech Republic. In his new role as head of the Czech team, he will further strengthen Logicor's market presence and focus on strategic land acquisitions and the development of new projects in order to expand the portfolio and business in general.
Pavel Rufert has 14 years of experience in the industrial and commercial real estate market. Previously, he worked for international companies involved in industrial real estate development, investments, asset management and consulting.
Alžběta Pastrnková joined Logicor Czech Republic in February 2023 as an asset manager. Before that, she had been active on the Czech real estate market since 2017 and focused on renting commercial real estate.
At Logicor, she is responsible for leasing existing and new assets in the Czech real estate portfolio. Before joining Logicor, Alžběta worked at 108 Agency in the office and industrial space rental teams. Alžběta graduated from the Faculty of Natural Sciences of the Masaryk University in Brno.
Libor Zbojan joined Logicor Česká republika in February 2023 as a project manager with responsibility for managing and coordinating technical aspects from site evaluation to the construction of planned new projects and redevelopments. Libor has more than 15 years of experience in project management in the field of development and construction.
In the past, Libor Zbojan worked for real estate companies Kajima, CTP Invest, CPI Group or Penta Real Estate. He graduated from the Czech Technical University in Prague, Faculty of Civil Engineering.
Ronald van der Waals, CEO of Logicor for Central and Eastern Europe and Northern Europe, comments on the current strengthening of the team: "I am happy to welcome Alžběta and Libor to our Czech team. Both have great experience and will support our further growth under Pavlov's leadership. The Czech Republic is a strategic market for us, and we plan to further expand our portfolio, which now has an area of 110,000 square meters, by acquiring land and real estate suitable for redevelopment."