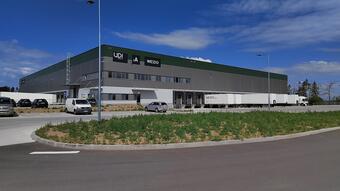 The project is financed by Komerční banka, which provides debt financing in the amount of 590 million crowns and Upvest in the amount of 150 million crowns. The rest of the costs come from the developer UDI Group's own resources. This is the first joint financing of a logistics park, where both KB as a senior lender and its subsidiary Upvest in the role of a junior financing provider figure within one capital structure. This is one of the many cases where the synergy is fully manifested in the connection between Upvest and its majority shareholder Komerční banka.
Logistics, as a segment with a potentially high debt capacity due to rental income from longer leases with stable tenants, enables the use of more complex capital structures that can be applied to projects with a higher capital requirement at an advanced stage of their implementation.
Logistics Park Sázava Logistics Park near Ostředek on the D1 highway offers four halls with a total leasable area of 46,500 square meters. It is close to completion and fully occupied. In the first of the halls of the Sázava Logistics Park area, Czech logistics WeDo started operations in the spring, which already has a fully functional sorting facility for parcels for the entire country. In the larger part of the second, at the same time the biggest hall of the whole complex, which has almost 20,000 square meters of covered area, the German logistics company Nagel-Group already operates a food warehouse. Recently, the developer handed over the third warehouse hall to Marimex. The last and at the same time the smallest hall with an area of less than six thousand square meters was rented by Emons forwarding company in the fall. Completion of the park is expected at the end of the first quarter of next year.
The developer of the project is UDI Group, an important developer in the field of residential and commercial projects, especially in the territory of the Czech Republic, Poland, Hungary, Serbia, and now also in Costa Rica and Panama. As a professional real estate investor, he is used to using external sources of financing and thus maximizing the profitability of his own capital. The dynamically growing UDI Group is currently working on 19 projects in six countries in Europe and America. Revenues from them will reach about 50 billion crowns in the following years.