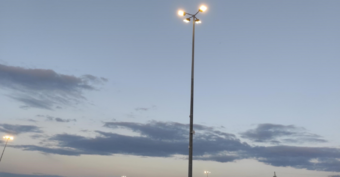 The entire FefL branch of Gefco in Cologne is illuminated by a new, highly efficient LED technology. The investment took place in two stages, both in the exteriors and interiors of the branch. The yard (parking area for storage of 10,000 new cars), both modern halls, in which the company carries out post-production modifications of new cars and remarketing of used cars, as well as the car wash and administrative premises of the company, received new lights.
The investment brought savings of almost 94,000 euros in 2019. Energy consumption for lighting fell by more than 78%. "Yard lighting, ie large outdoor storage areas for new and used cars, greatly contributed to the savings. Today, ten 1008 W and one hundred and twenty-two 297 W LED lights illuminate with the possibility of smart dimming by up to 40% at night, "describes Miloš Mrázek, Director of FVL (Finished Vehicles Logistics) at GEFCO for the Czech Republic, Slovakia and Hungary. Thanks to modern technology, the luminosity coefficient has risen from the original 0.4 LUX to 5 LUX in the places between the light columns, and the average luminosity per yard is around 20 LUX. "It is necessary to take into account the fact that we store cars in the open area, ie goods of high value, and this must be safe and fully under control 24 hours a day, 7 days a week," adds Miloš Mrázek.
Investment as part of a sustainability strategy
For Gefco, the new lighting is not only a way to save costs, it is also part of the sustainability strategy. The company counts on a longer service life of LED lights, thanks to the replacement of conventional fluorescent lamps also with the elimination of potential hazardous waste and the dimmability of Gefco LED lights will also contribute to the reduction of light pollution around the branch. With the new technology, the carbon footprint has been significantly minimized.
"CO2 production is one of the key monitored indicators for us, and in Cologne we received it from 243 thousand kilograms of CO2 to 113 thousand kilograms in 24 months thanks to an investment in lighting. By the way, this is the equivalent of 161 return flights between Prague and New York, "Miloš Mrázek calculates the immediate ecological effect of unprecedented proportions. The investor expects a three-year return on investment and already today plans to further modernize the branch in the form of building a yard roof with solar panels. Sustainability is simply firmly anchored in the DNA of the logistics company Gefco.