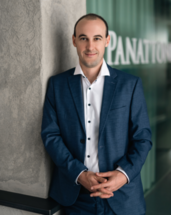 1. Could you introduce us to your company? (portfolio, locations of logistics parks, total leasable area, etc.)?
Panattoni Development Company is one of the world's largest privately held development companies with 53 offices in North America and Europe. Since starting operations in Central Europe in 2005, the company has completed a total of over 20 million square meters of modern industrial space in the countries of the European Union and Great Britain. It has almost 11 million square meters of buildings under management, with another more than 3 million square meters of buildings currently under construction. We offer industrial, warehouse and office space. It specializes in built-to-suit (BTS: built-to-suit) buildings, which exactly meet the requirements of individual clients. Panattoni defended its position as the leader of the European industrial market for the sixth time in a row, and all its new projects are certified by BREEAM New Construction at least at the Excellent level. Clients include companies such as Amazon, Tchibo, DSV, H&M, Lear, Ball, KION, Coca-Cola and Viapharma. In addition to the Czech Republic and Slovakia, Panattoni also has offices in most EU countries and Great Britain.
2. What projects is Panattoni CZ currently working on in the Czech Republic?
Currently, I would like to highlight, for example, the construction in the Kladno brownfield in the premises of the former Poldovka, where the modern Panattoni Business Park Kladno is being built. We like to build on brownfields, because these are spaces that are historically linked to industry, and it makes sense for us to revive these dead areas, which often carry an ecological burden with them.
3. How would you evaluate the development of the logistics and industrial premises market in 2023? Is the demand for warehouse space stronger this year compared to last year 2022?
Recently, it is beginning to manifest itself in the lack of free spaces and suitable land for construction. As a result, rental prices are rising, starting to approach the level of Western markets. Thus, we are competing for investors not only with neighboring Poland or Slovakia, but also with Germany. Vacancies are currently around 1%. The largest sub-markets in the country, such as Prague or Brno, are struggling with a lack of free space, but due to this, the demand for other locations such as Ostrava or the Ústí Region, where there is still potential for further development, is increasing.
4. What fundamental problems does Panattoni CZ face in the construction of new logistics parks?
For a long time, the Czech Republic was a leader among neighboring countries, and developers managed to offer suitable premises to industrial companies from all over the world. It thus succeeded in reducing unemployment and bringing in new sources of tax revenue. This no longer applies today, and due to the incorrectly set budget determination of taxes, the unpredictable permitting process and deteriorating legislation, foreign investors prefer Poland, but often also Slovakia. The motivation of municipalities to develop new industrial zones on their territory or the desire to allow the revitalization of post-industrial brownfields back to industry is scant. Due to poorly set budget allocation, the vast majority of taxes generated by the industrial zone in the municipality's cadastre are remitted to the state, and only a very small part remains directly to the municipality. Municipalities thus have no incentive to permit industrial zones. The process of preparing suitable locations is therefore longer than in our neighboring states, often by half a year or more. Expanding foreign companies, which often move production from Asia back to Europe, often prefer our northern neighbors.
5. What sets you apart from your competition?
We are the absolute leader in sustainable construction. In the Czech Republic, Panattoni boasts the largest number of buildings certified according to the highest levels of BREEAM New Construction. For all new Panattoni Parks, we aim for at least Excellent level certification. In the Czech Republic alone, Panattoni currently has 1,500,000 m2 of buildings with the BREEAM New Construction certification process already obtained or underway. At the same time, four newly built industrial halls in different locations of the Czech Republic aspire to the Outstanding level. This is especially appreciated by large foreign investors who have to meet their carbon neutrality goals, and we can offer them solutions with a minimal impact on the environment.
6. What do you think are the most fundamental changes in this period (market in general, customer mentality, competition, etc.)? How has your company adapted to them?
As I mentioned earlier, we are very much struggling with dwindling buildable space. Industry is gradually pushed out of city centers, where it gives way to residential or office construction. In Prague alone, we can mention localities such as Nusle, Vysočany, Jinonice, Smíchov or the new Koh-i-noor in Vršov. So we have to build on "green fields" more and more often. Construction on greenfields may be limited by the upcoming law on the protection of agricultural land or the aforementioned unfortunately set budget determination of taxes. The Czech Republic is also heavily bound by regulations. For example, the cost of land, which must be planted with greenery in industrial parks, is often reflected in the construction price, which is often up to 40% of the entire site. What we have left to attract investors is primarily location, a relatively high-quality highway network and a relatively cheap workforce. In addition, despite very low unemployment, qualified workers can still be found in certain locations, which is a big plus in today's world.
7. What are Panattoni CZ's plans in the Czech Republic?
We would like to build on our successes from previous years. Today, Panattoni is the leader on the Czech market and we want to defend this position. We believe that our excellent know-how in sustainable construction will help us maintain these positions. This trend will play a significant role in the coming years, as large corporations will gradually address not only their production, but also the CO2 footprint of their supply chains. It is important that the state also realizes the importance of industry and industrial self-sufficiency. We often run into complexities, inflexible legislation and lagging, out-of-date spatial planning throw sticks under our feet.