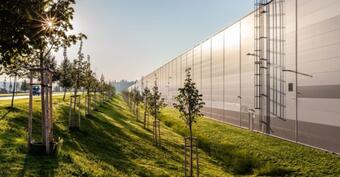 "Hellmann is our long-term client and respected partner. Therefore, I am glad that we managed to flexibly respond to the need for additional storage capacity in ctPark Bor within this cooperation," said Jakub Kodr, senior business developer of CTP for the Czech region.
Pilot project for cooperation with the community
Borský park is a pilot project for CTP, where it introduces a new approach to the community on a large scale. It builds a wide range of services for tenants. In addition to playgrounds and other leisure facilities for employees and people from the area, the developer is gradually adding canteens and restaurants to this and other areas. Furthermore, for example, accommodation facilities for employees of tenants or doctor's offices.
"We want our parks to be multifunctional and not just offer work. We also need to have a place in them where clients can meet and spend their free time. A good balance of work and leisure activities contributes to employee satisfaction. We offer our tenants space to do so," said Jakub Kodr.
The company especially appreciated the speed with which CTP was able to react
Hellmann also appreciated the quality of the Bor area and the flexibility of CTP's negotiations. "We have long-term experience with CTP. The area in Bor suits us with its location, infrastructure and related equipment. We especially appreciated the speed with which CTP was able to respond to our demand for new premises," explained Marc Wijnen from Helmmann's European office.