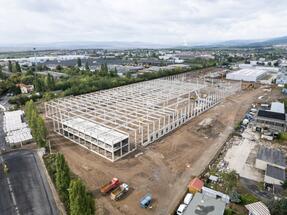 Fielmann plans to produce 2.5 million glasses per year in the new center and supply them to its 900 European branches from Chomutov. The total production capacity can be expanded to produce up to 5 million glasses per year and the storage facilities should accommodate up to 8 million products. Thanks to this significant investment, more than 500 new jobs will be created in the region.
GARBE Park Chomutov is located on brownfield land, which the GARBE company revitalized and started the construction of a speculative hall at the beginning of this year. The location of the park is very attractive near the German border, which has been used by major manufacturing and logistics companies for a long time.
Martin Stratov, GABRE Business Development Director for the Czech Republic and Slovakia stated: "This is a unique investment in the region and within the Czech Republic, and we are really happy that the project will be implemented in GARBE Park Chomutov. From the beginning, this park was conceived as an ideal space for production and logistics companies that are looking for high-quality premises, have high demands and are able to profit from the proximity of the German border. Fielmann is a significant leader in his field and we will do our best to support his plans to expand and build one of the most modern manufacturing and distribution centers in the region."
Martin Polák, director of GARBE for Central and Eastern Europe, commented on the project: "Brownfield in Chomutov was the first strategic location for us where we decided to invest in Central Europe. We believed that revitalization and speculative construction would pay off and we wanted to be ready for the moment when the possibility of cooperation with a company that needs to expand here would appear. We succeeded in this, and we are also very happy that this is a company focused on innovation, quality and with a valuable product," he added.
GARBE Park Chomutov is located in Chomutov directly at the exit from the D7 highway, only 18 km from the German border and 98 km from Prague. It offers excellent connections with Germany, specifically with the A4, A72, A9 and A93 motorways. There is a trolley bus stop by the park.