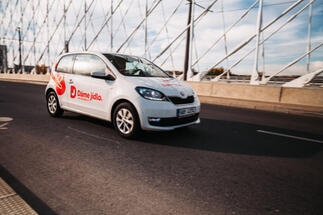 Delivery within the Dáme market service is now also available throughout the city of Liberec. As soon as the application accepts the order, the workers in the warehouse will start preparing the purchase in bags and in a few minutes the courier will be on its way to the customer.
Czechs are increasingly accustomed to convenient delivery of goods to the house in just 30 minutes. In many cases, the shipment arrives even earlier, in 15 to 20 minutes. The Dáme jídlo platform introduced this global trend in the Czech Republic at the beginning of this year, but the offer of goods within the so-called quick commerce is becoming more and more diverse and is rapidly expanding to other regions.
As part of quick commerce, Dáme jídlo has already expanded its offer to most regions, covering almost the entire of Prague and adding other cities and municipalities. For example, it is increasing the number of partner branches of Žabka and Tesco Expres. It also strengthens cooperation with well-known brands in the field of shops, such as the Bambule toy network or the Super Zoo breeding needs. In addition to partner stores, the expansion of the quick commerce offer also concerns our own Dáme market service. Dáme jídlo will deliver food from seven warehouses in the capital, one warehouse in Olomouc, Brno, Pilsen and now also in Liberec. Other regions are also planned for the future.
Quick commerce is a relative novelty in the Czech Republic. Mikolaj Komorowski, Director of Dáme jídlo, says that the very fast delivery of goods to domestic customers was extremely interesting. "Anyone who tries to deliver the purchase within half an hour, or even just 15 minutes after ordering, does not want to give up such conveniences. Leisure time is becoming more and more important for people. And so they appreciate it when they can decide for themselves how to deal with it. That is why we are constantly expanding the coverage and breadth of the assortment within quick commerce so that more and more customers can enjoy a portion of their life with the most diverse assortment possible, "adds Mikolaj Komorowski.