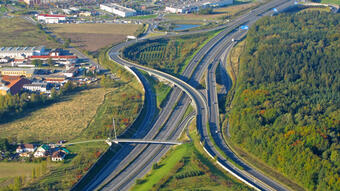 The ranking of the largest industrial submarkets in the Czech Republic remains unchanged - Prague tops the table with a total modern industrial stock of 3.25 million sqm, the Pilsen region ranks second (1.36 million sqm), and South-Moravia (with Brno) in third place (1.15 million sqm).
Since the first quarter of this year, when the construction pipeline reached its highest level in the history of the Czech industrial market, the volume of space under construction increased to 790,100 sqm, a new record high. The share of speculative developments fell for the fourth consecutive quarter and in Q2 2021 represented 30% of the construction pipeline (i.e. 237,100 sqm), dropping further below the 12-quarter average (45%).
Lenka Pechová, Senior Research Analyst at Savills CZ&SK, comments: "In terms of construction activity underway at the end of Q2 2021, Moravia-Silesia was still the most active submarket with 234,900 sqm, the Pilsen region followed with a total of 154,200 sqm. Prague ranked fourth with development projects totalling 88,500 sqm. Looking at the volume of space under construction (shell & core) as a proportion of the regional existing stock, the three fastest-growing submarkets are Karlovy Vary with 36%, Moravia-Silesia with 29% and Southern Bohemia with 17%."
The volume of unoccupied industrial space in the Czech Republic declined again and closed the second quarter at 226,700 sqm. This translated into a countrywide vacancy rate of 2.4%, which marked a new all-time low after falling by 44 bps q-o-q. Prague's vacancy rate mirrored the countrywide average and in Q2 2021 reached a new low of 1.2% (-47 bps q-o-q).
Following the record-breaking gross take-up levels seen in Q1 2021, the leasing activity slowed down in Q2 and totalled 462,500 sqm. This was still 13% higher y-o-y and 16% above the 12-quarter average. Net take-up slightly exceeded Q1 activity (by 2%) and in the second quarter of the year came to 307,800 sqm, showing a 29% increase y-o-y and 21% above the pre-pandemic Q2 2019 levels. Pre-leases represented 60% of the net take-up in Q2 2021, and 58% of H1 2021 net demand, notably above the 12-quarter average (53%).
Logistics services providers accounted for 30% of net take-up while e-commerce together with retailers also accounted for 30%. The number of transactions recorded in H1 2021 was up 47% compared to H1 2020.
Chris LaRue, Head of Industrial Agency at Savills CZ&SK, adds: "The market is coming under pressure on multiple fronts. Supply chain issues started to cause production cutbacks in the automotive sector. Furthermore, the extremely low availability of warehouse space may trigger issues for retailers, and therefore 3PLs, who have not yet secured the additional space to cater for the upcoming Christmas season. Additionally, capacity constraints in sea, air, road, and rail freight are expected to remain tight for the next six months, also affecting the year-end shopping season. Finally, rising material and construction costs and labour shortages across most sectors are inflating rents and prices. Going forward, industrial occupiers may have to expand their search area to secure more affordable space further away from larger Czech cities, or even start looking more closely at cheaper countries as an alternative to the Czech Republic."