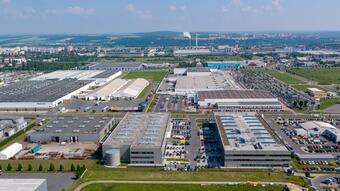 "From a business standpoint, it was one of the best years in CTP's history," said Remon Vos, CTP's founder, and CEO. "Despite the global pandemic, we have managed to significantly expand our activities. By 2020, CTP had achieved 22 years of continuous, profitable organic growth. We anticipate that our portfolio will significantly exceed seven million square meters this year. CTP is therefore well on its way to reaching 10 million square meters of the leasable area by the end of 2023. "
The results of the CTP were supported in 2020 by several factors, such as the continued strong growth of e-commerce, driven by the coronavirus pandemic, and the related increase in demand for logistics facilities in the region. Following the current press release, CTP now has a total development potential of approximately 5.4 million square meters.
More than 65 percent of CTP's land plots are adjacent to existing parks, providing additional opportunities with low risk and profitable development. In line with CTP's long-term strategy, 82 percent of these plots are located near the capitals or major cities of Central and Eastern Europe.
At the end of 2020, 740,000 square meters of the leasable area were under construction, which will be completed later this year. Of this, 63 percent has already been leased to existing or new clients. It will spend a total of 235 million euros (roughly six billion Czech crowns) on the completion of the CTP.
The company's available funds include a combination of banking instruments and large cash resources, which at the end of 2020 exceeded the amount needed to complete these projects.
In 2020, CTP expanded its market share in five markets: the Czech Republic, Slovakia, Hungary, Romania, and Serbia. It thus strengthened its leading position as the largest real estate developer and owner of logistics real estate in the region of Central and Eastern Europe (measured by gross leasable area).
Source:// Logistika ihned